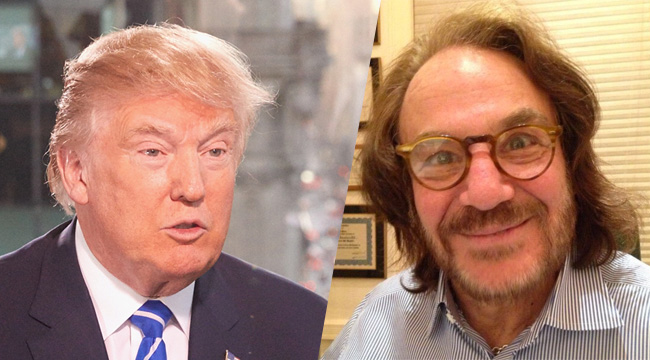 Remember Dr. Harold Bornstein? He's the medical professional who rose to internet fame last December when he penned a glowing endorsement of Donald Trump's health. The letter itself was awe-inspiring and proclaimed Trump to be in the best health one could possibly imagine. For sure, the note seemed a little questionable from the first line, which read, "To whom my concern." The nation soon forgot about Trump's doctor but now recalls the unbridled optimism of Bornstein — the Trump physician for 35 years — in light of the Alt-Right conspiracy theories surrounding Hillary Clinton's health.
The whole situation is absurd, especially when Clinton detractors are using pickle jars to claim she isn't fit enough for presidency, and none of this is based on any actual medical data. So, it's fair to return to Bornstein's letter, which breezily declared that Trump's physical state was "astonishingly excellent," and then he dropped this amazing line: "If elected, Mr. Trump, I can state unequivocally, will be the healthiest individual ever elected to the presidency." Let's take one more look at this gem:
Now, Bornstein is stepping up not only as a doctor but as a Trump surrogate. On Friday, he spoke with NBC News to stress the accuracy of the letter and explain his "healthiest individual" hyperbole. He mused, "I like that sentence to be quite honest with you." And then Bornstein stated — for no apparent reason — that many presidents were not only ill but also "paranoid" or "psychotic."
Finally, Bornstein admitted to NBC that he wrote the letter in five minutes while Trump's limo sat outside waiting. Seems possible.
(Via NBC News)