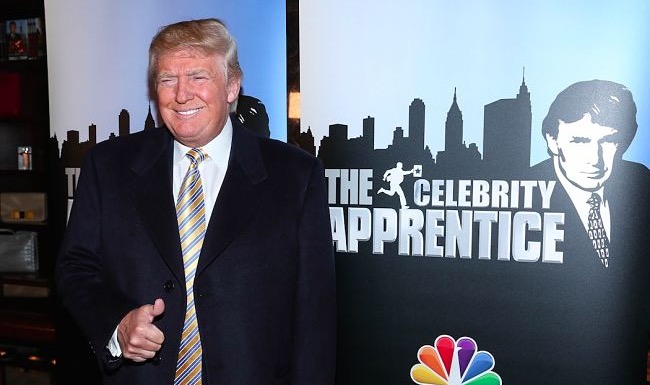 History is filled with presidential hopefuls who were also actors. Ronald Reagan starred in dozens of films, including the Academy Award nominated Kings Row, before he instructed Mikhail Gorbachev to tear down a wall; Fred Thompson has the distinct notoriety of being in both Die Hard 2 and Baby's Day Out; and Donald Trump played himself in Home Alone 2: Lost in New York (You think that doesn't count as acting? Try pretending to be Trump for a day; it sounds exhausting.), and Waldo's father in The Little Rascals.
He was also the host of NBC's The Apprentice and The Celebrity Apprentice, until departing in 2015 to focus on his presidential campaign. (Or when he was fired for calling Mexicans "criminals and rapists," one of the two.) But according to Vanity Fair, via the Raw, when Trump first considered running for president, back in 2011, he spoke to NBCUniversal chief executive Steve Burke about continuing The Apprentice… from within the Oval Office.
[A] person with knowledge of the situation noted that the two men had a conversation in which they broached a compromise, albeit one that seems more like a Trumpian fever dream than a network-TV reality. It outlined, presumably fantastically, that Trump should run for president; and on the off chance that he won, he would continue to star in The Apprentice from within the White House. (Via)
Okay, let's play along, and imagine that not only has Trump become president, but he's also still allowed to host a bad reality show (that "consistently ran LAST in its time period," for what it's worth). There's no way this wouldn't end up like Catherine's documentary on Veep. Trump would be bragging about his sexual exploits in front of children within minutes.
Make Apprentice great again.
(Via Vanity Fair and the Raw)