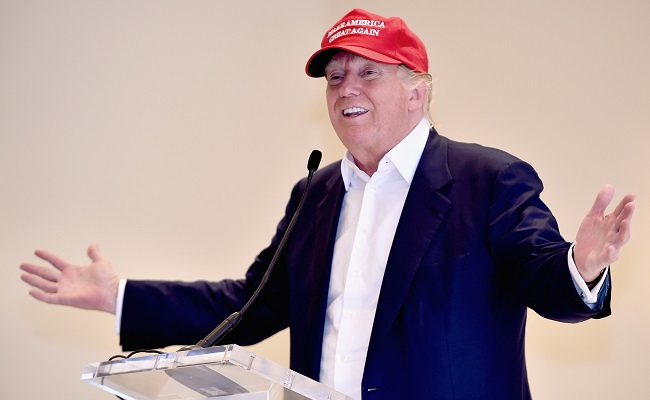 On Monday evening, members of the British parliament debated whether or not they should (and could) ban Republican presidential candidate Donald Trump from the United Kingdom. Why? For inciting hatred with his proposed Muslim ban in the United States in response to the ongoing Syrian refugee crisis.
According to CNN, the debate is the direct result of a petition filed by Suzanne Kelly, the Scottish journalist and activist who investigated and campaigned against Trump's efforts to build the "greatest golf course in the world" on the Menie Estate in 2013. (She lost, and the golf course exists today.) Kelly wanted to force parliament into considering preventing Trump from ever visiting the country again. She published the online petition on January 8, and it quickly surpassed its goal of 100,000 signatures with a whopping 575,575 entries.
Similar to the many inane online petitions the White House must address after reaching 100,000 signatures, Kelly's petition to ban Trump easily garnered enough votes to force Parliament's hand. While the Petitions Committee had to address the proposed Trump ban as a result, however, this didn't ensure the New York real estate mogul would never again be able to step foot on British soil. In fact, what occurred at 4:30 p.m. local time (11:30 a.m EST) in Westminster Hall was more of an opportunity for Kelly and participating members of Parliament to voice their (and their constituencies') opinions of Trump and his presidential machinations.
Almost half an hour into the live-streamed proceedings, the Trump campaign issued a statement on the matter — from its golfing facility in Scotland, of course. Trump International Golf Links Executive VP Sarah Malone wrote, "It is absurd that valuable parliamentary time is being wasted debating a matter raised as part of the American Presidential election."
The thing is, for the British Parliament to considering banning — however serious or not — a foreign individual for statements made on foreign soil about affairs having nothing immediately to do with British politics isn't all that absurd. Quite the contrary, the main thrust of Kelly's petition had to do with Trump's proposed Muslim ban, which many see as a form of hate speech. And not just hate speech, per se, but potential policy changes that could detrimentally and unnecessarily affect the lives of real people — based mostly on ethnic and religious differences.
If Trump were actually banned as a result of Monday's debate, he wouldn't be the first non-British denizen openly barred from entering the country's sovereign borders simply because of the hateful nature of his or her words.
Terry Jones, the Florida-based pastor who publicized his plans for holding a mass burning of the Quran on the anniversary of the September 11, 2001 terrorist attacks in 2010, was banned by the UK Home Office the following year. Why? Because he was going to attend several demonstrations against Islam and newly-built mosques held by British far-right groups. According to a Home Office spokesperson:
"Numerous comments made by Pastor Jones are evidence of his unacceptable behaviour. Coming to the UK is a privilege, not a right, and we are not willing to allow entry to those whose presence is not conducive to the public good."
Nor was Jones the first. Per a list of "hate promoters" published by the Home Office in 2009, several individuals were deemed undesirable by former Labor Party MP and then-Home Secretary Jacqui Smith. Persons banned included, but were not limited to:
Stephen Donald "Don" Black, a former Grand Wizard of the Ku Klux Klan who founded and still operates the website Stormfront. The Home Office "considered [him] to be engaging in unacceptable behavior by promoting serious criminal activity and fostering hatred, which might lead to inter-community violence in the United Kingdom."
Fred Phelps, pastor of the Westboro Baptist Church. Along with his daughter and WBC's chief spokesperson at the time, Shirley Phelps-Roper, Phelps was banned from the UK for the same reasons as Black. (Literally word for word.)
Yunis Al-Astal, a Palestinian preacher, politician and member of Hamas who was "considered to be engaging in unacceptable behavior by seeking to foment, justify or glorify terrorist violence in furtherance of particular beliefs and to provoke others to terrorist acts." In a 2014 broadcast, he famously said Jews should be killed, humiliated and taxed.
Michael Savage, the conservative American radio host, writer and pundit. Again, for many of the same reasons as Black and the two Phelps.
Let's not forget the most famous, recent and relevant example to Trump's possible-but-not-going-to-happen ban, conservative Dutch politician Geert Wilders.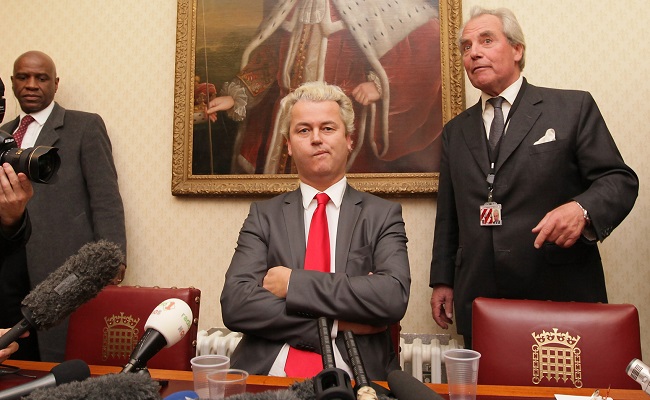 Geert Wilders was, and still is, a major fixture of contemporary far-right Dutch politics. The incumbent leader of the Party for Freedom, Wilders  was campaigning heavily against what he and his fellow party members viewed as Islam's militant takeover of the Netherlands and — to varying degrees — all of Europe. His group's anti-Islam rhetoric reached a fever pitch towards the end of the 2000s, especially when Fitna — a 2008 film commissioned by Wilders that decried Islam as a fascist religion and harped on its 9/11 connections — began making the rounds.
The Dutch politician was invited by members of the UK House of Lords to show the 17-minute film in 2009. However, House Secretary Smith banned Wilders from entering the country two days before the event. In a letter he received from the UK Border Agency, Wilders was told his "presence in the UK would pose a genuine, present and sufficiently serious threat to one of the fundamental interests of society," and that his film would "threaten community harmony and therefore public security."
In response, Wilders told a Dutch parliamentary sessions, "This is something you'd expect from Saudi Arabia, not Great Britain." He also decided to ignore the Home Office's warning and fly into the country anyway. He was met by Border Agency personnel and put on the first plane back to the Netherlands. The whole episode was famously caught on camera by several major news media outlets, as it marked the first time in the country's history that a foreign politician had ever been banned and forcibly removed from its sovereign soil. However, it was quickly overturned that same year, and Wilders repeatedly visited the country thereafter.
On the one hand, Wilders' internationally famous ban by the UK Home Office struck a chord at the time. Many were happy to see a person in a position of power prevented entry, as his personal beliefs and politics were deemed hateful and incendiary. However, Wilders and his supporters routinely decried the affair as an attack on freedom of speech, and while their speech was (and is) otherwise viewed as loathsome, they did have a point.
Hence why Trump won't be banned from the UK following Monday's Parliamentary debate. As current Home Office minister James Brokenshire summed up several hours' worth of testimony, speeches and arguments:
"It is in the UK's interests that we engage all presidential candidates, Democratic and Republican, even though we may disagree profoundly on important issues. Where there are clear differences of opinion, the most effective way to influence our America partners is through a frank and open exchange of views, in taking on those arguments. And today's robust debate has, I think, provided a platform to do just that."
(Via CNN)