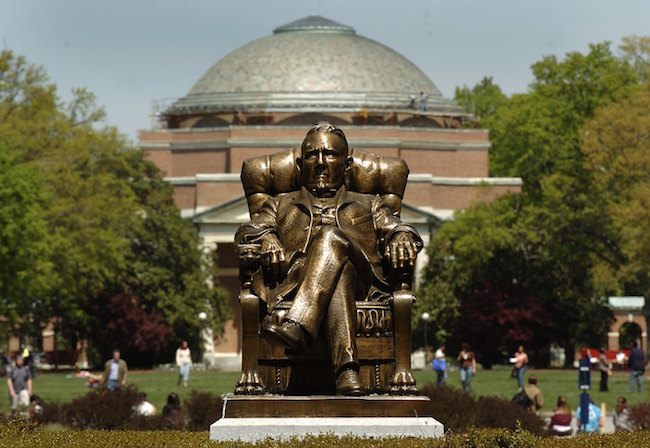 A number of businesses and celebrities are protesting North Carolina's controversial anti-LGBT law. Gov. Pat McCrory "clarified" the law with an executive order last week, but the backlash keeps on coming. Now, Duke University is getting involved in calling for the repeal of the law.
According to the Huffington Post, the university released a statement denouncing the law "in the strongest possible terms." The statement also goes into how the law is negatively affecting Duke as an institution, with researchers unable to visit Duke because of travel bans, as well as prospective faculty and students refusing to consider the school because of this discriminatory statute.
Here's that portion of the administrators' statement, which include the university's president, provost, and Duke Health System's CEO:
"Scholars from states and municipalities that have imposed bans on government travel to North Carolina have been unable to travel to Duke to continue vital ongoing research partnerships or attend academic conferences. Prospective students, faculty and staff, as well as Duke alumni planning visits to campus, have voiced concerns about whether they will find a hospitable environment in North Carolina. These developments have the potential to limit the value that Duke and other colleges and universities contribute to the state, namely producing trained graduates and expanding the frontiers of knowledge."
Duke follows in the footsteps of North Carolina's other major university, University of North Carolina at Chapel Hill. The public school says that there is no way it can enforce the law's provision disallowing transgender students from using bathrooms labeled with the gender that's not on their birth certificate. UNC also voiced concerns that the law was preventing and discouraging faculty, students, and donors from coming to and contributing to the university.
(Via Huffington Post)