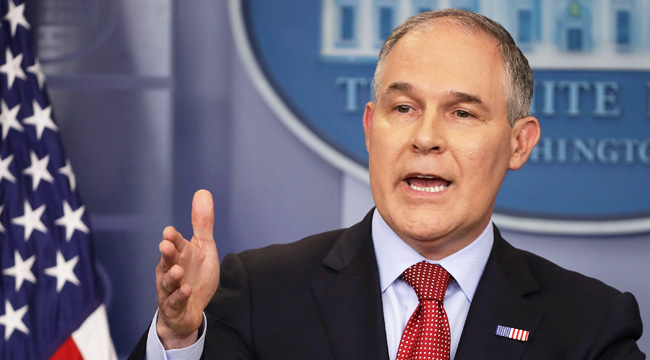 Contrary to what numerous experts, pundits, and members of the public are pondering, EPA head Scott Pruitt isn't interested in the question of whether climate change is behind Hurricanes Harvey and Irma. Despite two historically large, intense storms making landfall in one week, Pruitt is sticking to the party line established by Kellyanne Conway, who also indicated the Trump administration isn't focusing on possible causes of Hurricanes Harvey and Irma any time soon.
Pruitt wants to focus on the immediate problems facing Houston as flood waters recede and the southeast as it braces for Irma. He spoke with CNN:
"Here's the issue. To have any kind of focus on the cause and effect of the storm; versus helping people, or actually facing the effect of the storm, is misplaced … What we need to focus on is access to clean water, addressing these areas of superfund activities that may cause an attack on water, these issues of access to fuel … Those are things so important to citizens of Florida right now, and to discuss the cause and effect of these storms, there's the… place (and time) to do that, it's not now."
Trump has long denied climate change is anything more than a hoax, and has even accused China of making up the global warming phenomenon. Since Trump took office, the EPA has followed his lead on the matter. However, numerous scientists have pointed out that the size and strength of Harvey and Irma are unprecedented, and climate change could lead to similarly big, bad storms in the future. As the NOAA previously explained, "There are better than even odds that anthropogenic warming over the next century will lead to an increase in the occurrence of very intense tropical cyclone in some basins."
So from a certain perspective, storms like Harvey and Irma are already politicized by disinterest in discussing climate change as a possible factor. And as some have pointed out, storms like Harvey and Irma are also inherently political when you look at how we prepare and recover from such events and how that affects different demographics.
For example, the decision by ICE to keep roadside checkpoints in place along evacuation routes affected the willingness and ability of undocumented immigrants to get out of Harvey's way. Or consider the Trump stance on immigration, which is hampering Houston recovery efforts as thousands of undocumented construction workers are ineligible for federal contracts.
With that in mind, there is less difference than Pruitt thinks there is in trying to figure out why super storms happen and helping the people affected by the latest natural disasters.
(Via CNN)