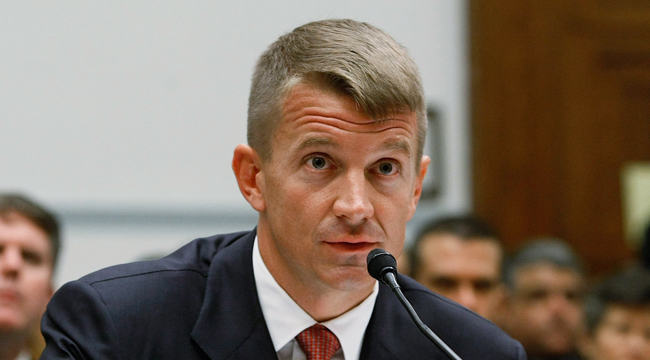 Special Counsel Robert Mueller appears to have Blackwater founder Erik Prince directly in the crosshairs of his wide-ranging Russia probe. Recently, Mueller linked Prince's attempt to set up a Trump-Russia backchannel to Vladimir Putin's family. The meeting in question, which took place in the Seychelles islands (days before Trump's inauguration), was described by Prince as a "chance encounter over a beer" between himself and Putin ally/Russian financier Kirill Dmitriev. That wasn't very believable, but Mueller has reportedly finally has evidence to prove that Prince was lying.
Prince's statement was made directly to Congress under oath, which doesn't often lead to prison time, but there is precedent for that penalty to occur. Mueller's evidence apparently comes from a rolled witness, George Nader, who has limited immunity in the Russia probe. ABC News reports that Nadar — who has been extensively grilled after Mueller pulled out the stops — admitted to setting up the meeting between Prince and Dmitriev:
Nader has submitted to three interviews with special counsel investigators and four appearances before a federal grand jury in Washington since agents stopped him at Dulles International Airport in January, served him with a grand jury subpoena and seized his electronic devices, including his cell phone. Documents obtained by Mueller suggest that before and after Prince met Nader in New York a week before the trip to the Seychelles, Nader shared information with Prince about Dmitriev, sources familiar with the investigation told ABC News, which appears to be inconsistent with Prince's sworn testimony before a U.S. House of Representatives investigative panel.
Mueller's main tactic in these Russia indictments, so far, appears to be nailing Trump associates to the wall over falsehoods. Former Trump advisor George Papadopoulos, whose drunken rambling jump-started Mueller's probe, and former National Security Advisor Michael Flynn, who worked out a sweetheart deal, both pleaded guilty to lying to the FBI. And this week, the first jail sentence in the probe was handed down to Dutch attorney Alex van der Zwaan for the same offense.
In other words, Prince's attorneys will probably start seeking out a plea deal as well, which means that Mueller may roll yet another witness in his investigation into the Trump campaign's collusion with Russia. Then again, it may be far too late for Prince to strike a deal, and indictments may be on the way.