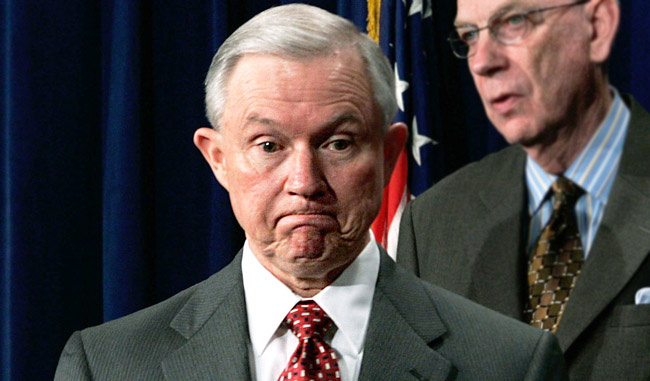 U.S. District Judge Harry Leinenweber has filed a national injunction barring Jeff Sessions' threats to block Sanctuary Cities from receiving federal grant money unless they get on board with the Trump administration's immigration agenda. That's a big blow to Sessions, who has been talking largely about crippling the defiance of sanctuary cities by cutting them off from Edward Byrne Memorial Justice Assistance Grants.
Multiple major cities have refused to cooperate with immigration agents by, say, notifying ICE when an undocumented immigrant is released from jail. Chicago, San Francisco, LA, and others have all taken a stand on behalf of their immigrant populations. Sessions responded harshly, saying that the Trump administration wouldn't "simply give away grant money to city governments that proudly violate the rule of law and protect criminal aliens at the expense of public safety." Now Judge Leinenweber says Sessions was overstepping the bounds of the law.
The Trump administration has been heating up its pressure on immigrants lately. The U.S. military has dropped skilled immigrants from recruitment contracts, citing a program designed to trade military service for naturalization was too big a hassle. Trump has been flip-flopping on what to do about the 800,000 children of undocumented immigrants. The decision to rescind DACA has even sparked other lawsuits from state attorney generals separate from the sanctuary cities issue. Even hurricanes offered no reprieve from ICE'S recent aggression. So Leinenweber's decision is a breath of fresh air, even though Sessions is sure to strike back eventually.
(Via NBC)