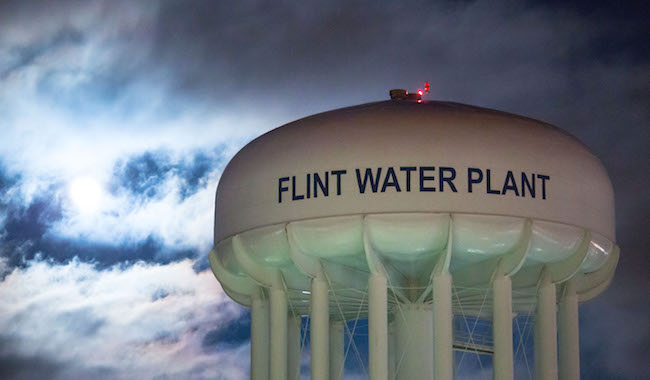 Flint, Michigan is usually in the headlines for its hardships, or as the butt of a joke, but for one glittering night, Flint's Northwestern High School seniors got to leave all that behind. Literally. They elected to host their prom not in Flint, but on a Detroit riverboat an hour's bus ride away, a choice that reflects many of the graduating seniors' hopes to move on from the city's perpetual state of emergency.
Flint hasn't had drinkable water for over three years, almost as long as these students have been in high school. The pipes won't be replaced until 2020, at which point many of these young people will have earned associates degrees or be halfway through their time at four year colleges. And while the teenagers dancing the night away on that riverboat were celebrating that they're almost to the finish line, it's impossible to forget that not everyone in Flint was so lucky.
Michigan Health Department Director Nick Lyon was charged with involuntary manslaughter for deaths that resulted from an outbreak of Legionaries Disease stemming from the water crisis. Other Flint and Michigan leaders have been hit with felony charges for their role in the city's public health disaster. And, while it's not clear yet just how many people are affected or what their outcomes will be, some future Flint high school students will surely be coping with the effects of lead poisoning and other contaminants, which can cause learning disabilities, as well as neurologic and psychological effects. Even before the pipes corroded and the water crisis began, Flint struggled with the crime and violence of other small, poor towns. It's never been an easy place to grow up.
Flint is just shy of a 100,000 residents, most of whom are black and 41% are making ends meet below the poverty line. But in the midst of all the facts and statistics, it's easy to forget that at the end of the day the people of Flint are pretty ordinary, going to work, picking up their kids, and making sure homework gets done. Things have gotten financially tougher since the water crisis, since the homes are devalued, and now there are threats of foreclosure over unpaid water bills. That makes milestones like prom night all the more special.
Northwestern High seniors went all out, with colorful tuxedos, custom gowns, spangled manicures, and fly hairdos, and their community rallied around them. Before boarding the bus to Detroit, Flint packed the street for a pre-prom event called "the Catwalk," in which the seniors get to strut their stuff. Proud parents and neighbors, some of whom hand-made the girls' dresses, line up to take photos of their children. "It's like a fashion show," seventeen year old Leilani Clay told the New York Times. The venue itself, the Detroit Princess riverboat, was special, too— a treat for kids who haven't had many opportunities to set foot outside their troubled hometown.
"I've never been to Detroit," nineteen year old prom king Treveyon Allen said. "Most of us haven't been on a boat at all. That was a beautiful experience, to just get on a boat and say, 'We've been here.'" For once, instead of worrying about the water, Northwestern seniors got to simply float on it, and envision what life beyond Flint will be like.
(Via New York Times)