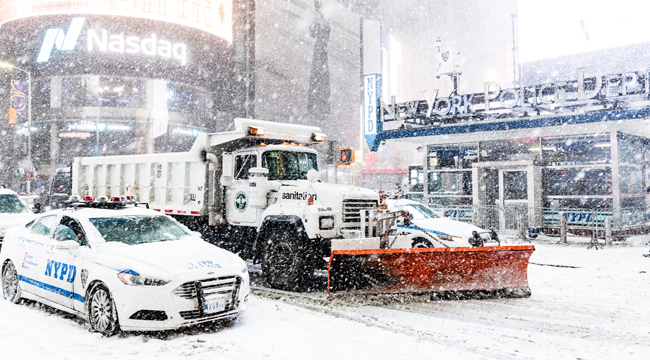 Several late-winter storms have buried the Northeastern seaboard over the past weeks. These back-to-back nor'easters have left many feet of accumulated snow throughout several states, along with howling winds, flooding, and elusive thundersnow, and the first day of spring is set to bring more of the white stuff from the fourth nor'easter of the month.
The Weather Channel reports that Winter Storm Toby (that name has spawned endless The Office jokes on Twitter) will bring high winds and coastal flooding potential while dropping another foot of snow on a wide swath that extends from Boston, New York, and Philly, all the way into Ohio, Tennessee, and Indiana. In particular, NYC could see between 10 and 12 inches. Via the NY Post:
A winter storm warning is in effect from 12 a.m. Wednesday until 8 a.m. Thursday, with heavy snow and winds of about 45 mph expected, according to AccuWeather. The snow will intensify during the day Wednesday and is expected to cause problems for commuters, as well as flight delays and cancellations.

Before the system heads off to Nantucket early Thursday, between 6 and 10 inches of snow may blanket the city — and even more in the northern surburbs, where more than a foot is expected.
TIME reports that several airlines have preemptively cancelled flights while rescheduling them in many cases, which will hopefully alleviate some of the frustration felt by travelers. Winter isn't done with the U.S. yet, but hopefully, that will soon change.
(Via The Weather Channel, New York Post & TIME)