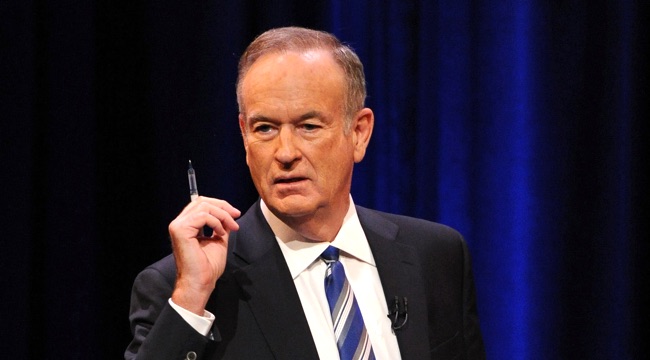 New information is coming out about the ousting of Bill O'Reilly from Fox News earlier this year, and it certainly does not paint a good look for the network. In an explosive piece of investigative reporting by the New York Times, it's come out that the cable news network actually renewed O'Reilly's contract after he had settled a sexual harassment lawsuit with legal analyst Lis Wiehl for a whopping $32 million dollars in January. That's an exorbitant amount of money for a sexual harassment lawsuit when you consider that Fox News CEO Roger Ailes — who had been fired just six months earlier — had paid out $20 million to host Gretchen Carlson.
Despite this, in February 21st Century Fox went forward with contract negotiations to renew O'Reilly with the network with a $25 million per year salary. It was only after accusers began going public and advertisers responded by dropping his show that the network finally did fire him in April. The Times reports that Rupert Murdoch and his sons, Lachlan and James, were adamant at the time to retain the popular host, as they had just seen the departure of Megyn Kelly. (It later came out that James was at odds with Lachlan and his father over whether or not O'Reilly should keep his job.)
"Their legal theory has been that we hid the fact that we had a problem with Roger," Gerson Zweifach, Fox's general counsel, wrote in the email, referring to the prosecutors and Mr. Ailes, "and now it will be applied to O'Reilly, and they will insist on full knowledge of all complaints about O'Reilly's behavior in the workplace, regardless of who settled them."

He warned the Murdochs that they should expect details from the January settlement to become public. Six days later, Mr. O'Reilly was fired.
21st Century Fox was likewise on board with O'Reilly staying on, although now the company claims not to have known details regarding the settlement.
In a statement, 21st Century Fox said it was not privy to the amount of the settlement and regarded Mr. O'Reilly's January settlement, which was reached with a 15-year Fox News analyst named Lis Wiehl, as a personal issue between the two of them.

Regarding Mr. O'Reilly's contract extension, the company said Fox News "surely would have wanted to renew'' Mr. O'Reilly's contract, noting that "he was the biggest star in cable TV.''
The Times reached out to O'Reilly himself for comment, and he was predictably combative, telling the interviewer, "This is horrible, it's horrible what I went through, horrible what my family went through. This is crap, and you know it."
(Via New York Times)