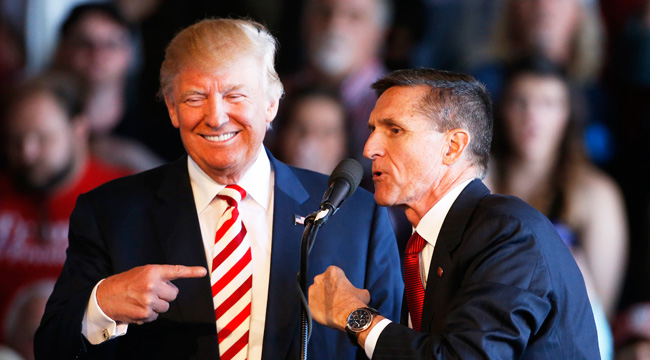 Donald Trump's national security advisor, General Michael Flynn, recently made his administration debut with some harsh words for Iran. However, he can't shake the looming issue of his Russian ties, which didn't look entirely sketchy but were deemed worthy of the highest levels of intelligence agency investigation. And now, the Washington Post says that Flynn's talks with Russian ambassadors are still looking shady, for he apparently addressed the U.S. sanctions on Russia before Trump entered the White House.
Flynn had previously denied speaking with Russia about this matter. However, multiple U.S. officials say he's not telling the truth and that he had these talks — possibly illegal ones — with ambassador Sergey Kislyak about the Obama administration's punishment for Russia meddling in the U.S. election. Here are some more details:
Officials said this week that the FBI is continuing to examine Flynn's communications with Kislyak. Several officials emphasized that while sanctions were discussed, they did not see evidence that Flynn had an intent to convey an explicit promise to take action after the inauguration.

The talks were part of a series of contacts between Flynn and Kislyak that began before the Nov. 8 election and continued during the transition, officials said. In a recent interview, Kislyak confirmed that he had communicated with Flynn by text message, by phone and in person, but declined to say whether they had discussed sanctions.
As stated before, Flynn has twice denied these discussions. Yet on Thursday, his spokesperson started to allow for the possibility by shifting towards a "while [Flynn] had no recollection of discussing sanctions, he couldn't be certain that the topic never came up." The Washington Post emphasizes that it was an "open secret" that the Trump administration was open to the possibility of removing Obama's sanctions soon after Trump took office, and while Flynn made no promises to Kislyak, he "appeared to leave the impression it would be possible."
What's kind of amazing is that Trump hasn't done so yet, but perhaps he was too busy bragging to Putin about his popularity and trashing the "bad" U.S.-Russia nuke treaty while not even realizing what it meant.
(Via Washington Post)