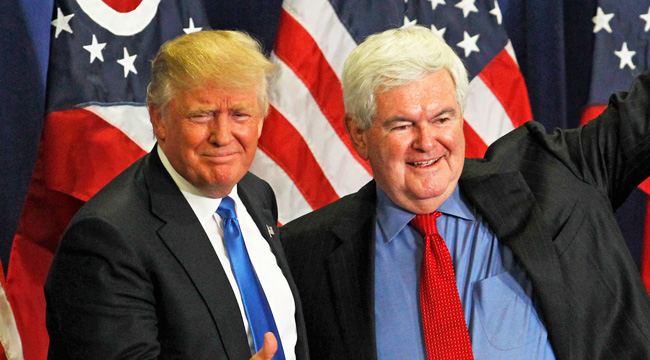 During Monday's White House press briefing, Sean Spicer fielded a question about whether Attorney General Jeff Sessions should defer to a special prosecutor when it comes to the Trump administration's alleged ties to Russia. Spicer responded, "A special prosecutor for what?" Old Spicey's place in the Russia matter has grown messier after the report that he personally reached out to the CIA and asked them to help bury Russia stories in the press. His White House loyalty may not be completely shared by other Trump allies, namely Newt Gingrich, who says it's time for an investigation.
However, Gingrich still suggests leaving the ball in Trump's court by encouraging the president to appoint a special investigator. And although he's acting out of concern (and telling Trump to "take a lesson from the past"), Gingrich is still breaking from the Republican ranks with this advice. He suggested appointing a "very smart, independent person" to rip off the Band-Aid and get to work already:
"Maybe somebody like Michael Mukasey, former attorney general [under George W. Bush] — put them in charge of the whole project, and say, you know, there are questions here, the country has questions, the media has questions, even members of Congress (have) questions … The earlier [the administration has] a central person directing their efforts, the less problem it'll be, the faster it'll go away."
Gingrich's words follow the suggestion of Congressman Darrell Issa to appoint a special prosecutor if the Russia matter progresses at all. However, Issa has since backtracked, and Senator Tom Cotton — after he recovered from his disastrous town hall — has also shot down the idea and says it's far too early to think the worst of White House and Russia.
Meanwhile, House Speaker Paul Ryan announced on the Tuesday edition of Today that a general investigation of Russia reports has commenced with Congress' intelligence committees (although they may not have the expertise to properly do so). This would ideally include a further probe into Gen. Michael Flynn's lies about his conversations with a Russian ambassador, along with the relevant Russian dossier matters.
Trump has yet to comment upon Gingrich's advice. He's probably tapping away on a dead phone about those dreadful leaks and blaming them on Obama.