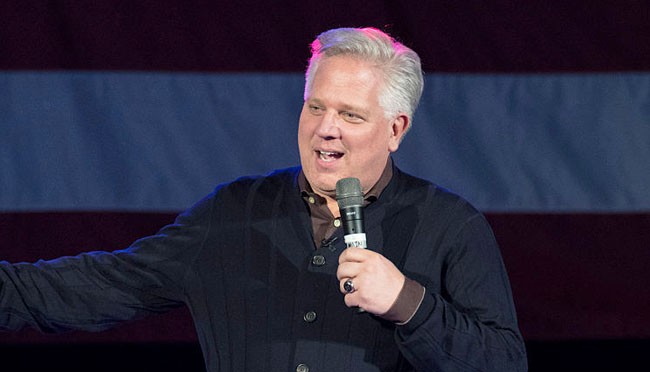 Glenn Beck's extended apology tour continues. In an interview with The Washington Post, the former Fox News host insisted — as he has done several times already — that he is sorry for all the divisive things he said for eight long years, and he wants to help bring the country together. He literally grovels during this discussion and blames himself for helping whip up some of the "meanness" in this country today.
Writer Mark Fisher interviewed Beck and seems cautious. He makes note of how Beck will willingly take the blame for Trump's rise but will also "bat his tropical blue doe eyes" while promising to be a nicer person. Still, there's a hint that Beck might be serious — after all, he's been apologizing for many months — and this time, maybe people will forgive him:
"I'm not willing to do this anymore," [Beck] says. He leans over, drops his head as if in penitence and pronounces himself riven with regrets.

"I did and said terrible things," Beck says. "I did my thinking out loud and it's one of my worst aspects. But I haven't changed my principles. I've changed the way I phrase things — for example, I'm trying to ban the word 'evil' from my lexicon. I didn't notice how my language could be interpreted by half the country as racist. I lacked humility. I was the height of arrogance."
Last year, Beck reinvented himself as a Never Trumper. He also empathized with the Black Lives Matter movement and supported Hillary Clinton, which shocked his loyal fanbase. In the Post's profile, Beck expresses hope that both sides will one day understand one another:
He believes people on both sides of the divide must understand the other's root fears — for example, the left's fears that Trump will put immigrants in concentration camps, or the right's fears that Democrats want to take their guns. He believes that beneath those fears, most Americans share core beliefs — in freedom of expression, in individual initiative, in caring for those with less.

"We're not going to come together on politics," he says. "But we can come together on principles. It's just time for the hatred to end, or we're going to destroy ourselves."
Despite his call for peace, the Post notes that Beck is still concerned for what the future will bring and plugs survivalist food companies and investment in gold on his radio show. So, he's trying to remain optimistic and see the good in people, but he's not entirely sure that America can recover from the hatred. You can read the entire profile by clicking here.
(Via The Washington Post)