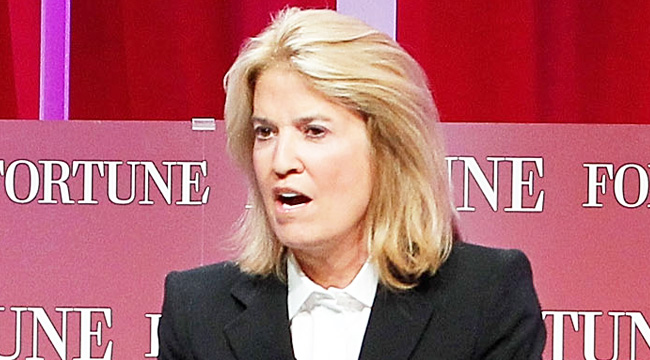 In September, Greta Van Susteren walked away from Fox News. It was a split that ended up being messier than believed, for she'd planned to depart after 14 years (while claiming that the network hadn't felt "like home" for awhile), but the network cancelled her program a few weeks before the purportedly scheduled date. In early January, she ended up at MSNBC to host For The Record with Greta during the 6pm time slot, but on Thursday (six months after her move), Van Susteren tweeted, "I am out at MSNBC."
Not many details there, but that's to be expected. However, John Koblin of the New York Times spoke with Van Susteren's husband, John Coale, who was more forthcoming: "We're kind of in shock."
Coale also spoke with CNN's Brian Stelter: "They let her go." Further, Van Susteren was apparently at work and prepping for this evening's show when the news came down.
Vanity Fair has an exclusive on some of the chatter going on behind the scenes, but the gist is that MSNBC's ratings were up, but Greta wasn't managing to keep up with the crowd. Indeed, the New York Times recently reported that her show consistently landed in third place for the timeslot.
Meanwhile, MSNBC has already announced that Ari Melber — the network's chief legal correspondent and weekend host of The Point — will step into the 6pm hour next month. Until then, rotating hosts will get the job done, and MSNBC's staff letter surfaced on Twitter:
As we continue to grow and evolve as a network during one of the most newsworth periods in recent history I have some important news about our 6pm hour.

MSNBC and Greta Van Susteren have decided to part ways. Greta is a well-regarded television veteran and one of only a few broadcasters who can say they've hosted shows at all three major cable news networks. We are grateful to her and wish her the best … Please join me in wishing Greta well as she departs.
You can read the full network team letter (which is pretty standard) below.
(Via MSNBC, Vanity Fair & New York Times)