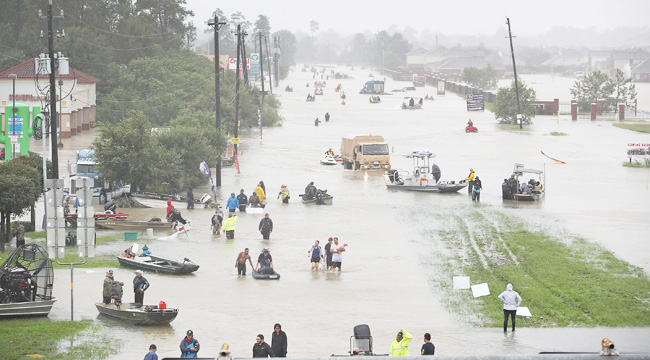 Tropical Storm Harvey continues to batter southeast Texas with many communities seeing no relief from inundation anytime within the coming days. In Houston, the city's infrastructure teeters on the brink with a mystery downtown explosion adding to the chaos. Although some bits of affirmation, including the appearance of the Cajun Navy, have shone through the misery, the climbing death toll cannot be ignored. And that number has varied, depending on the source, although the Washington Post placed it at eight people early Tuesday afternoon. Now, a family of six appears to have been added to that number, according to relatives who spoke to local media.
Houston CBS affiliate KHOU — which saw flooded newsrooms on Sunday — reports the deadliest incident of this event yet. A van, which contained seven members of one family, was swept into flood waters in Houston's Greens Bayou neighborhood. Four children and two elderly adults were lost:
A family of six is believed to have died after drowning in a white van Sunday afternoon while trying to escape the floods of Hurricane Harvey, relatives tell KHOU 11 News. It is thus far the single deadliest incident resulting from the storm.

The victims include four children (all 16 or younger) and their great-grandparents. The driver of the vehicle (the children's great-uncle) managed to escape before the van went under water. According to witnesses, the van was driving down Green River Road in Greens Bayou when it hit high floods after crossing a bridge.
The van's driver was unable to control the vehicle after hitting the high waters, but he attempted to rescue the van's four child occupants (ages 15, 14, 8, and 6) through the back door. First responders could not reach the van soon enough, according to witnesses, before it sank. Police haven't confirmed these deaths because "no bodies have been recovered at this time," but multiple relatives spoke with KHOU to corroborate the tragedy.
(Via KHOU & Washington Post)