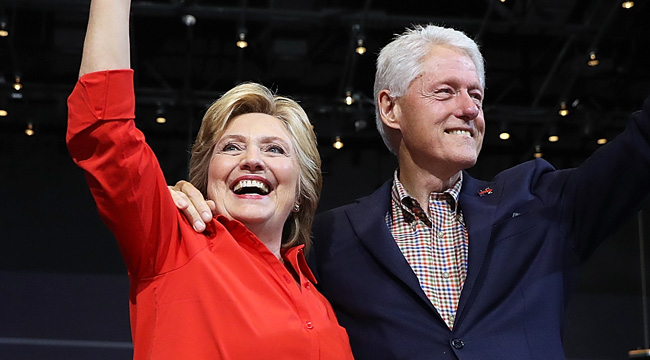 The Clinton Foundation has done an enormous amount of good since its inception, but currently sits in a scenario without precedent. Bill Clinton originally launched the organization while moving from presidency to philanthropy, but matters have grown complicated with Hillary's rise to the Democratic nomination. If and when Hillary Clinton becomes president, this will create a host of potential conflicts of interest.
The New York Times noted this dilemma, along with the existence of "pay for play" accusations — whereby critics believe the foundation exchanged meetings with then-Secretary of State Clinton in exchange for donations — and called upon Hillary to distance herself from the foundation. Actually, the paper urged Bill Clinton to do so too. He'll likely hold an administration role (Hillary previously said he'd be tasked with revitalizing the economy), and he can't simultaneously serve on the foundation's board. The Times believes that a current distancing would avoid the appearance of impropriety.
In a new ABC News interview, which will air on Tuesday morning, Clinton acknowledges the call for distance from the foundation. She says the time will eventually come for this to happen, but it's not time yet:
"I don't think there are conflicts of interest. I know that that's what has been alleged and never proven. But nevertheless, I take it seriously.

"I'm very proud of the work that the Clinton Foundation has done. It's a world-renowned charity because of the work that my husband started and many, many people helped him with … He started this great work. He has made it his life's work, after the presidency. And he has said, if I am so fortunate enough to be elected, he will not be involved. And I think that is appropriate."
Clinton also believes that she never made any decision as secretary of state that was influenced by anyone, including any individual or group (foreign or domestic) who donated to the foundation. Instead, Clinton claims she was only driven to represent the best interests of the country. She also states that "the State Department has confirmed there's no evidence of any such influence at all." But she invites questions about the foundation, so perhaps this is part of her newfound initiative to be more accessible to the press.
The full ABC News interview, which will be a joint appearance with Tim Kaine, will air on Tuesday in two parts — on GMA and World News Tonight.