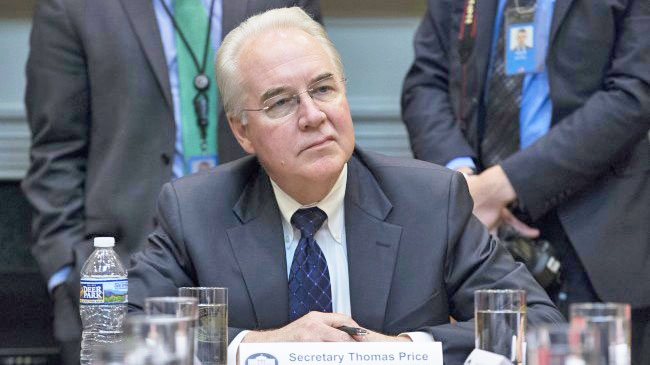 The House Oversight Committee will reportedly investigate the use of private jets by members of President Trump's cabinet after a number of recent reports have suggested misuse and inappropriate requests for private planes when commercial flights were available for much, much lower costs.
The investigation will likely lead to Treasury Secretary Steve Mnuchin re-explaining why exactly he requested a private plane for his honeymoon and why he used a government plane to watch the solar eclipse from Fort Knox.
Mnuchin is hardly the most egregious private plane user in the Cabinet, though. Health and Human Services Secretary Tom Price, who was against private plane use by public officials until he was for it, has reportedly flown on 24 charter flights since being confirmed and has spent over $300,000 on travel since May. During one trip, he visited his private property on an island resort in Georgia, and on another he had lunch with his son in Tennessee. This only adds to the ethics concerns that dogged Price prior to his confirmation.
In addition, EPA head Scott Pruitt, who already was being investigated for his frequent trips back to his home state of Oklahoma (and who recently had a $25,000 soundproof communications booth constructed in his office, so he doesn't have to visit the similar booth in EPA headquarters), might soon come under fire for his use of a private plane on an inter-Colorado flight despite being offered a free ride by staff of Colorado Gov. John Hickenlooper. The two were both en route to the same meeting.
Yet one member of the administration is very clearly staying out of this one. While she has been busy smearing defrauded college students, Education Secretary Betsy DeVos apparently saw the writing on the wall and is telling everyone that she pays for her own private jet travel. So there.
(Via The Hill and The Denver Post)