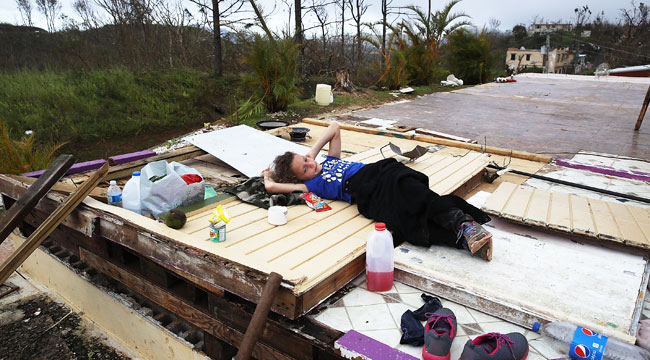 Puerto Rico has been so absolutely devastated by Hurricane Maria that it's completely without power and running out of diesel for generators while residents in need of respirators and dialysis are barely hanging on. And despite President Trump's assurances that air cargo shipments are reaching the U.S. territory hourly, frustration has still built up about the slow response to unprecedented damage and about the so-called Jones Act limiting maritime shipments of life-saving water, fuel, and other supplies.
Fortunately, there is still a lot that people can do stateside to help fellow Americans in Puerto Rico. Monetary contributions are frequently the best way to help in the immediate aftermath of a disaster, when gluts of supplies can get in the way of rescue efforts or might not be tailored to the stage of recovery a hard-hit area is in. Here are a few of the organizations raising funds right now:
American Red Cross: Donate $10 by texting "REDCROSS" to the number 90999. To donate another amount, visit the organization's website.
The Hispanic Federation: The organization launched the UNIDOS Disaster Relief Fund, which donates 100% of proceeds directly to children, friends, and families devastated by not only Hurricane Maria but also the Mexico City earthquake. Text UNIDOS (space) YOUR AMOUNT (space) and YOUR NAME to 41444 to donate.
Unidos por Puerto Rico: Set up by Beatriz Roselló, the first lady of Puerto Rico, this organization accepts donations via PayPal and 1First Bank. Your personal contribution will also join donations from private-sector sponsors including Coca-Cola, Walgreens, Church's Chicken, Burger King, and more. Go here to learn more.
Puerto Rican Leadership Council of South Florida: Though South Florida was hard hit by Hurricane Irma just weeks ago, this organization is raising supplies to help their neighbors in the Caribbean. Donations are being accepted at locations throughout Miami. Needed items include nonperishable food, diapers, bottled water, and clothing. For more information, contact Luis De Rosa at ldr@puertoricanchamber.com.
Empire State Relief and Recovery Effort New Yorkers have a special place in their hearts for Puerto Ricans, given the city's large population of emigres, and both Mayor Bill de Blasio and Governor Andrew Cuomo have launched initiatives to help the island recover. Residents can drop off critically needed items including diapers, baby food, batteries, first-aid supplies, and feminine hygiene products at 17 firehouses and EMS stations in all 5 boroughs. The group is also organizing volunteers, supplies, and monetary donations.