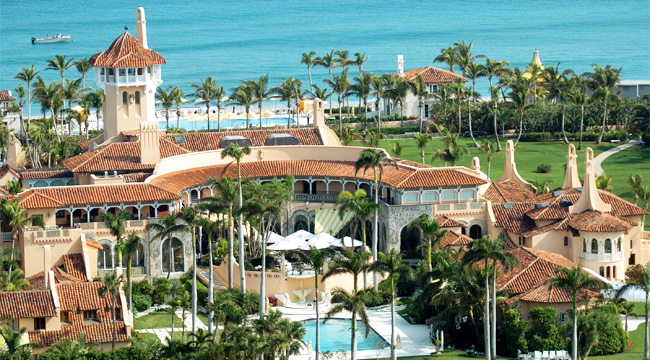 Hurricane Irma is already a category 5 hurricane and the strongest Atlantic storm ever recorded. The storm is forcing huge evacuations and might hit Florida this weekend, but it's already leaving destruction in its wake as it crosses the Caribbean. Early Wednesday morning, the storm hit the island of St. Martin, certainly damaging one of President Trump's estates, the Chateau des Palmiers, on the island.
The status of the Trump estate, which has been for sale for several months and is apparently used as a rental property, is not known, but the French government, which controls the side of St. Martin that Trump's property is on, said there was serious damage in the area:
A cluster of government buildings on the island was partially destroyed, and two-dozen government officials were forced to take shelter inside a concrete structure.

"We know that the four most solid buildings on the island have been destroyed, which means that more rustic structures have probably been completely or partially destroyed," French Interior Minister Gerard Collomb told AFP.
Since the storm is headed to South Florida, Trump's real estate holdings there, including Mar-A-Lago and three golf courses, are likely to face at least tropical storm conditions and worse if they end up being in the storm's path.
A spokesperson for the Trump Organization said the org was monitoring the storm and heeding all state and local advisories. However, one of the golf courses was tweeting this morning about still being open.
(Via Washington Post)