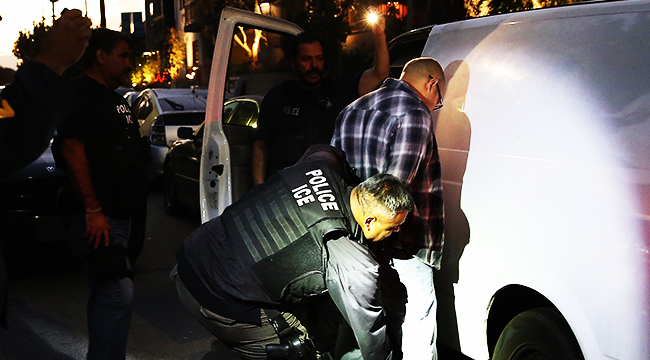 In an administration rife with controversy, one of the most visible problems is with how Trump's Immigration and Customs Enforcement plays fast and loose with the law. It goes well beyond controversial deportations like those of the wrongfully accused Ricardo Rodriguez. ICE has been found to even try and strip the people it targets of their citizenship, and raiding businesses based mostly, apparently, on the cultural stereotype they're largely run by illegal immigrants. But a much bigger problem is that ICE often does not obtain the necessary legal authority to enter residences, let alone remove people from them, and the problem is getting worse.
The most recent example comes from Syracuse, where dairy farmer John Collins alleges ICE agents raided his home without providing a warrant:
He ran in, he says, and saw his worker, Marcial de Leon Aguilar, pinned up against the window by armed men. The men did not identify themselves and were screaming at Aguilar, Collins said.

"I run and say, 'What the hell is going on in here?'" Collins said. Then the men told Collins they were officers with Immigration and Customs Enforcement. He asked them for a warrant or some paperwork to explain what they were doing. They had none, he said, so he ordered them to get off his property and leave Aguilar alone.
All of this happened in front of Aguilar's children. His wife and children had fled violence and cultural upheaval in Guatemala and were seeking asylum in the U.S., which may have precipitated the raid. Collins, attempting to film the raid, had his phone taken away and was put in handcuffs, under threat of arrest for "hindering a federal investigation."
Contrary to popular belief, police can't just decide that a crime, any crime, must be happening in your house and burst in without a warrant. That's only allowed under what's legally called "exigent circumstances." That is, officers must believe a serious crime is in progress, that evidence is being destroyed, or the suspect is about to flee. None of these were happening; in fact, Aguilar's wife had met with ICE personally multiple times to discuss her asylum application, and Aguilar himself had filed the necessary immigration paperwork to be employed on the farm, according to Collins.
This isn't the first time ICE has overstepped its legal bounds in regards to warrants. In late 2017, ICE burst into a home to arrest a construction worker, with agents screaming they didn't need a warrant. And there's also the continuing, ongoing problem of ICE agents stating they're police in order to get into a person's home without a warrant, and attempts to treat ICE detainers as warrants, when they're little more than interdepartmental memos. This was a problem well before Donald Trump was in the White House, but it's become worse since Trump took office.
The final indignity in all of this is that often ICE winds up having to obey the law after the fact. The incident in Oregon ended with the man they arrested, Carlos Bolanos, freed because it was a "mistake". It's not clear how many of these "mistakes" are unfolding across the country, but it's increasingly clear that ICE agents are going to keep making them until the government intervenes.
(via Syracuse.com)