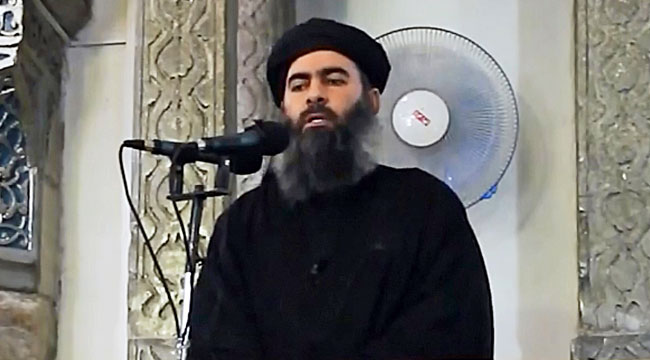 On the day after ISIS bizarrely tried to claim responsibility for a failed attack that targeted U.S. Defense Secretary James Mattis in Afghanistan, the terror organization is attempting to reassure followers that all is well with their leader. With this move, the Islamic State hopes to clear up confusion on whether Abu Bakr al-Baghdadi is alive or dead, since a number of conflicting reports over the summer couldn't prove that either was the case.
The New York Times reports that the Islamic State has released audio footage — a full 46 minutes in length — that they say contains the voice of 46-year-old Baghdadi. If authentic, this would be the first official communication from Baghdadi since last November. Here's more:
In this recording, [Baghdadi] addresses his foot soldiers after the loss of Mosul, a city of one million, as well as the subsequent loss of the smaller town of Tal Afar and part of Raqqa, the group's capital in Syria.

"America, Europe and Russia are living in a state of terror," he said, according to a translation provided by the SITE Intelligence Group, which tracks Islamic State propaganda.
The NY Times notes that the recording begins with "may Allah protect him," which was intended to communicate that Baghdadi is still alive. In addition, the person in the recording references recent events — including the attacks on the London Tube and in Barcelona as well as the North Korea situation — as details that would also serve the same goal. However, there's been no confirmation that this recording, which has been circulating through popular ISIS chat rooms, indeed contains the voice of the ISIS leader.
Ultimately, the audio footage includes a call for increased attacks on the West. And the Islamic State hopes that this will boost morale and, just maybe, stop fighters from claiming to have headaches and backaches in order to skip out on battles. That's actually been happening this year, by the way. Amazing.
(Via New York Times & Fox News)