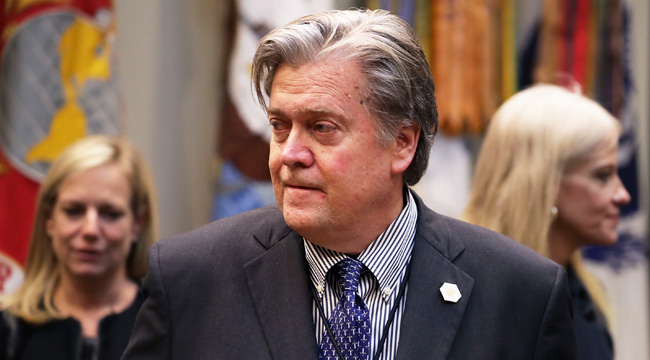 Trump Chief Strategist Steve Bannon was recently stripped of his National Security Council power, but for now, he's hanging onto his White House role. Part of this might have to do with what Trump fears could happen, for Breitbart and the Pizzagate crowd might seek revenge if and when Bannon is fully ousted. However, Trump has downplayed Bannon's influence while claiming he didn't even know the guy before he joined the campaign. And this weekend has seen multiple analyses — from the New York Times and Vanity Fair — that focus on the West Wing power plays that could give Bannon the final push. Both outlets either hint at or outright say that Ivanka Trump has taken up the cause.
Ivanka, who's now a special assistant to the president, has plenty of reason to dislike Bannon, who has feuded with her husband, Senior Advisor Jared Kushner. Their respective ideology sets clash (Bannon being a nationalist who reportedly refers to Kushner as a "globalist cuck"), and there's angst over Kushner's increasing level of responsibilities (touring Iraq and leading a new department to overhaul federal bureaucracy). Bannon has apparently convinced his former Breitbart minions to stop picking on Kushner, but Ivanka won't soon forget the drama.
Vanity Fair now sets the stage with an in-depth piece that features tidbits from anonymous White House sources. These sources say that Trump's not overly attached to anyone in his administration, and anyone could be dropped at anytime except for one party: "Everyone is dispensable, except one person: Ivanka." By extension, Kushner is protected, and this excerpt is a telling one:
With the exception of two family members — Trump's daughter Ivanka, an unpaid assistant to the president, and her husband, Jared Kushner, a senior adviser to the president — no one on Trump's topmost White House staff has been with the new president for very long. That presents a sharp contrast with the teams around Hillary Clinton and Barack Obama. Trump's staff is as unbridled as the president himself. His advisers came together almost by accident and by default. They exhibit loyalty to their boss in front of the camera, only to whisper about him (and about their rivals, often in vicious terms) when the camera is gone.
Meanwhile, Bannon is said to be an island unto himself and has not endeared himself to any other West Wing occupants. He also secured his own publicist, which may be the reason why he landed on the cover of TIME. The Vanity Fair piece mentions that Trump didn't at all appreciate seeing this cover story called "The Great Manipulator":
The New York Times adds that Trump was "annoyed" by the cover and remarked, "That doesn't just happen." Also a factor — Ivanka's reportedly chipping away at Bannon during talks with her father, who the publication suggests has filed this information away for a delayed reaction:
When Ms. Trump does intervene, her father listens — although he does not always take her advice. One person close to the family described her influence as a delayed-action fuse: At times the president will mention a point Ms. Trump made, uncredited, days later. Ms. Trump has never been close to Mr. Bannon, although she appreciated the ferocity of his work, people close to her said. She puts him in the category of colorful, rough-hewed characters her father collects, with the likes of Roger Stone, a longtime Trump operative.

In recent weeks, she has spoken bluntly about Mr. Bannon's shortcomings to the president. She was especially incensed by articles she believed were planted by Mr. Bannon's allies suggesting he, not her father, honed the populist economic message that helped sweep the Midwest. She made that point in the strongest terms to her father, who agreed, according to a family friend.
For now, the president is reportedly hoping that Bannon will calm down. He's also apparently keeping an eye on Breitbart to see if the flood of anti-Kushner posts returns or even progresses to criticizing the president himself. One thing that Trump does appear to appreciate would be "the 18-hour days the indefatigable Mr. Bannon routinely works." It's no secret that Trump doesn't sleep much, and he prizes the appearance of a work ethic above all else, so Bannon's office face-time could save him.
Yet there's also a good chance that Trump's ego simply won't allow him to stomach the sneaky tactics of Bannon. After all, this is the same guy who secured a major NSC role simply by handing Trump an executive order that he didn't read but still somehow signed. The president was also jealous of the attention that Bannon received during the Muslim ban chaos. When folks started referring to a "President Bannon" during national protests, that may have sparked some lasting Trump resentment. Also, SNL isn't letting up with their Grim Reaper-Bannon shtick, and this really gets under Trump's skin…
(Via Vanity Fair, Time & New York Times)