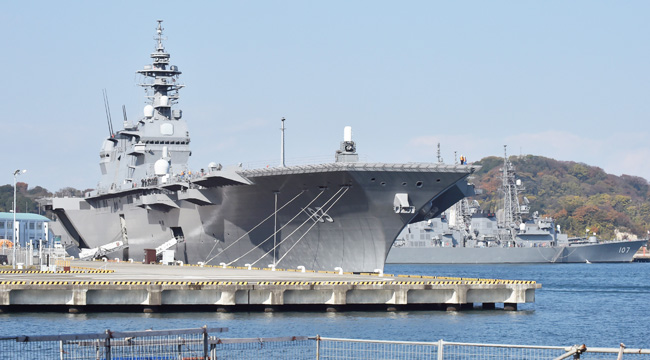 This morning, political news junkies rolled their eyes over the absurdity of Kellyanne Conway's microwave-wiretapping rationale and Rep. Steve King's appalling white-supremacy mantras, all while tensions continued to simmer in the Far East. On Monday, Reuters reported that Japan will soon send its largest warship, the Izumo helicopter carrier, into the disputed waters of the South China sea. This will be the country's "biggest show of naval force in the region since World War Two."
Japan's move follows a similar act by China in December, which sent its only aircraft carrier into the South China Sea as well. The motives, however, are completely different. China was reportedly sending a signal to Donald Trump while staking a further claim upon the waters — where it's built seven contested artificial islands to store anti-aircraft and anti-missile weapons. China has claimed absolute sovereignty over these islands while D.C. has condemned their construction in international waters. Officially, Japan will simply deploy its warship for exercise purposes alongside the U.S. Navy, but clearly, Japan is also pushing back against China:
China claims almost all the disputed waters and its growing military presence has fueled concern in Japan and the West, with the United States holding regular air and naval patrols to ensure freedom of navigation.

The Izumo helicopter carrier, commissioned only two years ago, will make stops in Singapore, Indonesia, the Philippines and Sri Lanka before joining the Malabar joint naval exercise with Indian and U.S. naval vessels in the Indian Ocean in July. It will return to Japan in August, the sources said.

"The aim is to test the capability of the Izumo by sending it out on an extended mission," said one of the sources who have knowledge of the plan. "It will train with the U.S. Navy in the South China Sea," he added, asking not to be identified because he is not authorized to talk to the media.
The Japanese warship won't head into the South China Sea until May, but the U.S and Japan are likely aiming to ward off a repeat of the Chinese seizure of a U.S. Navy drone. This followed Trump's controversial phone call with Taiwan, but he's since smoothed ruffled feathers by recognizing the one-China policy. And very soon, Trump will host the Chinese president at his Mar-a-Lago estate, but it remains to be seen whether Trump will be tough with China. After all, he might be so darn happy about his dozens of newly acquired Chinese trademarks that the subject of the South China Sea may never surface over golf.
(Via Reuters)