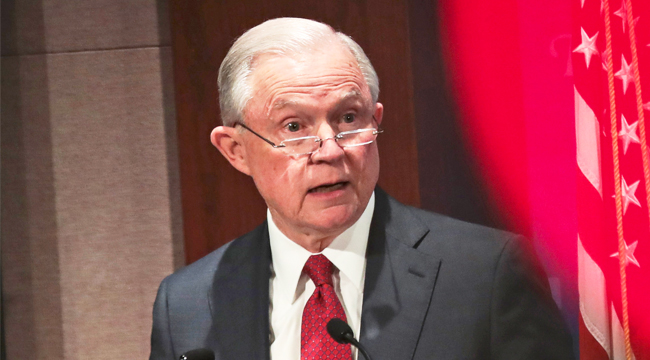 President Trump recently officially unveiled his administration's opioid plan, which includes the death penalty for some dealers. The move seems to take a page out of Philippines President Rodrigo Duterte's gleeful use of the penalty for drug crimes, and folks were alarmed that Trump is moving that direction. Well, Attorney General Jeff Sessions has now made it clear that he's fully on board, and he's issued a memo to let U.S. attorneys know that it's time to start thinking about how certain drug cases could result in capital punishment.
Within the memo, Sessions — who previously mocked a medical intern who argued that guns are more dangerous than weed — points toward statues concerning racketeering, the use of a gun while committing a drug-related crime, and cases involving large quantities of drugs. He concludes with the following directive to fully clarify his position:
"I strongly encourage federal prosecutors to use these statutes, when appropriate, to aid in our continuing fight against drug trafficking and the destruction it causes in our nation."
Perhaps it shouldn't come as much of a surprise that the attorney general who ended a policy that allowed legal marijuana to flourish at a state level would also support such a drastic Trump move. However, the Supreme Court is bound to get involved with this mess at some point, and then the fireworks shall truly fly. Read the memo below, courtesy of Buzzfeed News' Dominic Holden.
(Via Justice.gov)