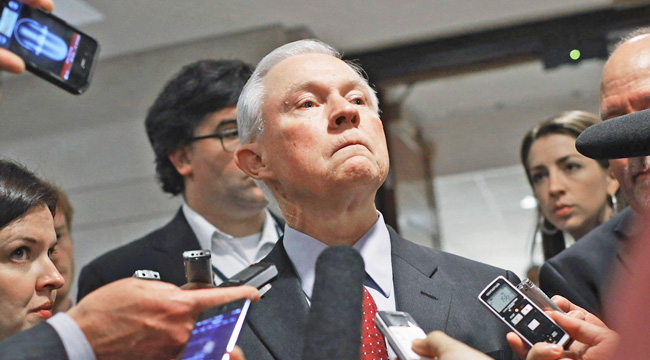 CNN reported Thursday that U.S. authorities were preparing charges in order to arrest Wikileaks founder Julian Assange, days after CIA director Mike Pompeo called the organization a "hostile intelligence service" working with Russia. Despite Donald Trump often taking Assange's comments at face value and Assange's attorney saying the Department of Justice hasn't been in contact, Attorney General Jeff Sessions said at an El Paso press conference that Assange's arrest was now a priority.
"We are going to step up our effort and already are stepping up our efforts on all leaks. This is a matter that's gone beyond anything I'm aware of. We have professionals that have been in the security business of the United States for many years that are shocked by the number of leaks and some of them are quite serious … So yes, it is a priority. We've already begun to step up our efforts and whenever a case can be made, we will seek to put some people in jail."
Assange has escaped prosecution previously under first amendment coverage. Now, however, prosecutors have reportedly found a loophole. Trump and his administration have spent the an inordinate amount of time complaining about various leaks. Sessions comments and the pending charges against Assange seem to point to the administration using the law to combat a perceived problem.
Ecuadorian president-elect Lenin Moreno has said he will not extradite Assange, who has spent nearly five years in the Ecuadorian embassy to avoid arrest on rape allegations made in Sweden.
(Via The Guardian)