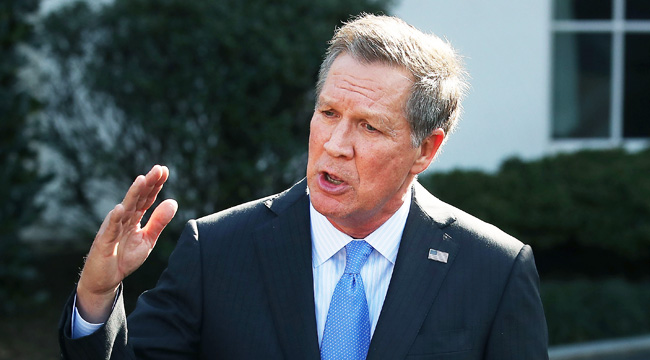 President Trump officially sounded the alarm on Thursday over North Korea while telling Reuters that a "major, major conflict" could happen in response to dictator Kim Jong-Un's nuclear obsession. Then on Friday morning, Secretary of State Rex Tillerson spoke to the United Nations about the "catastrophic" nature of the situation. Tiillerson says that all options are on the table, but he'd prefer to enact "painful" sanctions against the regime. And now — out of the blue — Ohio Governor John Kasich (a "moderate" Republican) has weighed in with what can only be considered a drastic measure in dealing with North Korea.
Cleveland.com reports that Kasich spoke at a breakfast meeting (which was sponsored by Christian Science Monitor), and we're definitely seeing a glimpse of how the former presidential candidate would prefer to deal with the situation. Kasich argued against a war, which would potentially lead to a great loss of life, and he believes there's a quicker way to deal with this:
"North Korean top leadership has to go, and there are ways in which that can be achieved … it seems to me that … we have capability of doing things like that, and that's what I'm talking about when it comes to capitation of the top leadership of that country."
Naturally, a reporter inquired whether Kasich was talking about assassination or maybe an executive order to overthrow the regime, and Kasich declined to answer the question. He only said that the Trump should "eradicate" the top North Korean leaders:
"I don't know the technicality of this. But if I were president and I had the sense, that's what I think the right policy is. Now if I have to write something on a piece of paper and stick in in the safe, fine. But I'm saying to you that the best way to solve this problem is to eradicate the leadership."
Kasich wouldn't elaborate on what he truly means, other than he hopes that Kim Jong-Un would be succeeded by "benign leadership." It's worth mentioning that Kasich served for 18 years on the U.S. House Armed Services Committee and believes that it's "not beyond our capability" to install new leadership in North Korea. Whatever he's talking about … you be the judge.
(Via Cleveland.com & C-Span)