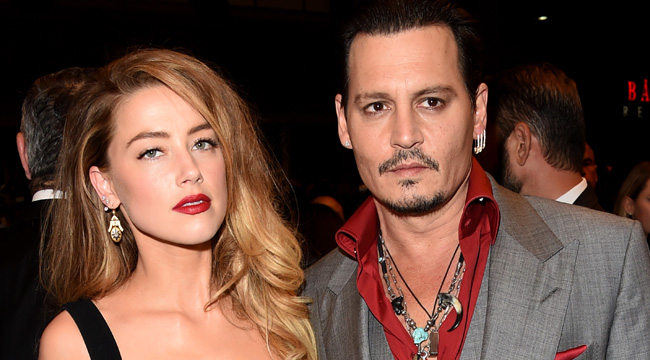 Last June, Amber Heard filed for divorce from Johnny Depp while accusing him of domestic violence. She produced haunting photos, medical records, and support from seven witnesses who were prepared to testify that Depp's temper was not confined to a single glass-smashing tantrum that made viral rounds. However, Depp quickly reached a civil settlement with Heard, who donated the millions to charity. She never filed criminal charges, but due to Depp's ongoing lawsuit with his former management, some previously unheard details are coming to the forefront. People has obtained legal documents that reveal how Depp's ex-managers — at the aptly-named The Management Group (TMG) — alleged that he physically abused Heard and violently kicked her during a 2014 argument:
"[Joel Mandel, one of the managers,] was informed well after the fact through communications with various house staff and security that Depp had been extremely volatile and had sometimes 'gotten physical' with Heard … Mandel was also later informed that Depp had violently kicked Heard during an incident that took place in or around 2014."
Depp has continued to maintain that he never abused Heard even as purported text messages (between Heard and Stephen Deuters, an assistant to Depp) claimed that Depp cried after learning from Deuters that he kicked Heard in May 2014. In the legal documents uncovered by People, TMG says that Depp was aware that the texts surfaced, and he tried to cover up the incident by pressuring Deuters to say the texts were fake:
"TMG is informed and believes that Depp knew full well that the text messages were genuine, but pressured and berated his assistant to falsely challenge the texts publicly."
These new allegations won't change the outcome of Depp's divorce proceedings, but they have come to light due to the Pirates of the Caribbean star's ongoing lawsuit against his managers, who he has accused of financial wrongdoing (and being the reason he's now struggling financially). In turn, they have pointed the finger at Depp's own lavish spending, which includes extravagant bottles of wine, a staff of 40 people, and a $350,000 monthly tab to maintain his yacht (not to mention the expenses associated with his multiple homes and private island).
No matter what happens with the lawsuit between Depp and his managers, his image certainly can't take another hit. Not after he cracked a joke about assassinating President Trump, which prompted White House finger-wagging and a mumbled apology from Depp after no one jumped to his defense.
(Via People)