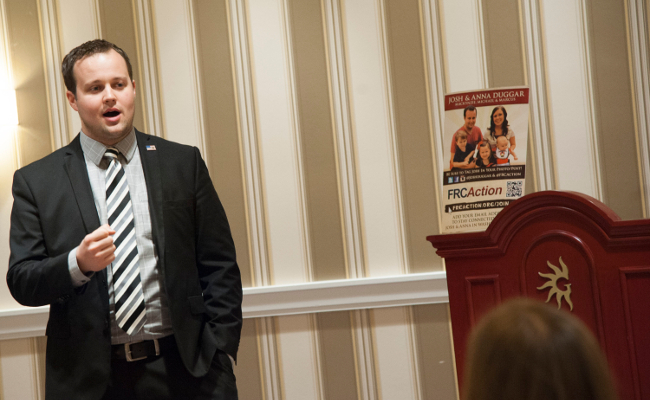 Josh Duggar is not only a known child molester whose actions caused his family's Christian values reality show, 19 Kids and Counting, to be canceled by TLC. He is now also allegedly a cheater with a registered account on Ashley Madison, the site that helps cheaters find extramarital partners.
Gawker found Duggar's name in Tuesday's data dump of thousands of Ashley Madison users' private information, obtained and released by a hacker group calling itself the Impact Team. In particular, they found a user registered as Joshua J. Duggar using a credit card with a billing address that was the same as the Duggar grandmother's Fayetteville, Ark. home.
Gawker also found that this Duggar spent almost $1,000 on two Ashley Madison subscriptions from February 2013 to May 2015, which was the same month that In Touch Weekly obtained public records investigating whether he had molested five girls, four of whom were his sisters. Soon after, Duggar confessed to the crimes, saying that he had repented for them, and resigned his post as Executive Director of the Family Research Council, a conservative lobby group.
Furthermore, the data dump exposed what sexual acts Duggar was allegedly looking for when it came to cheating:
"Conventional Sex," Experimenting with Sex Toys," One-Night Stands," "Open to Experimentation," "Gentleness," "Good With Your Hands," Sensual Massage," "Extended Foreplay/Teasing," "Bubble Bath for 2," "Likes to Give Oral Sex," "Likes to Receive Oral Sex," "Someone I Can Teach," "Someone Who Can Teach Me," "Kissing," "Cuddling & Hugging," "Sharing Fantasies," "Sex Talk."
The data also includes his list of turn-ons, which includes a woman with a "muscular/fit body" who "has a secret love nest." Married ladies, take note.
We typically shy away from covering information obtained from hackers; however, given Duggar's history with promoting "Family Values" and the hypocrisies this news creates, it certainly merits attention. The Duggars have yet to respond to this latest potential embarrassment, but we will update the story as it develops.