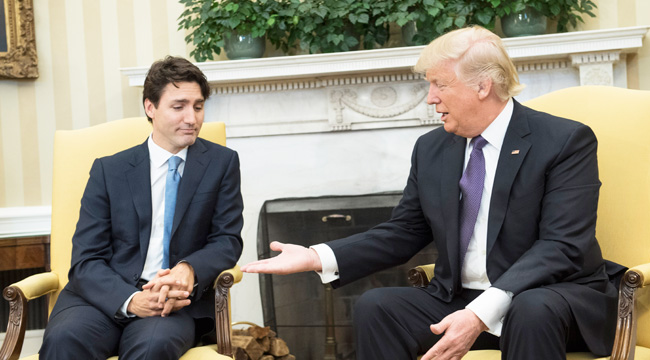 Canadian Prime Minister Justin Trudeau visited the White House today to hang with President Trump. Naturally, people can't hold back the handshake jokes after Trump's awkward exchange with Japanese Prime Minister Abe Shinzo. Yet this meeting promised to be a very different one for Trump, for he and the yogi PM had women's rights on the agenda. Considering how Trudeau praised women's marchers as inspirational following Trump's inauguration, perhaps this topic truly was an unexpected one.
Trudeau and Trump enjoyed the obligatory photo op (above) before hosting a roundtable event where they launched the Canada-United States Council for the Advancement of Women Entrepreneurs and Business Leaders. Much of this, it must be noted, is due to Ivanka Trump's influence on her father. She sat alongside Trudeau as the group discussed how companies that are run by women can work wonders for an economy.
This isn't exactly the most novel concept, but when we're talking about a U.S. administration that's doing everything it can eliminate reproductive rights (which are quite important to working women), baby steps are wholly welcomed. While speaking to the roundtable, Trump kept things simple:

"We need policies that help keep women in the workforce and to address the unique barriers faced by female entrepreneurs — and they are unique. We need to make it easier for women to manage the demands of having both a job and a family and we also need to make it easier for women entrepreneurs to get access to capital."
Whereas Trudeau held a similar sentiment but said it with feeling:
"Whenever I sit down with a woman executive, I know that she has had to overcome significant barriers that exist and therefore is likely to have greater insight into how to ease those barriers for others, but also be a formidable contributor to the success of business and our economy. For me, it's not just about doing the right thing, but understanding that women in leadership can be a very powerful leverage for success for business, for communities and for our entire economy."
The two leaders then held a joint presser where the instant Facebook reactions were … mixed.
During the press conference, Trump stated, "The full power of women can do better than anybody else." This was a prepared speech, so he wasn't speaking very convincingly. Things grew less robotic during the Q&A, in which Trump was asked to explain his immigration ban in comparison to Trudeau, who welcomes refugees with hugs. Trump (while bragging about his electoral college win) responded that he was only doing what he promised to do.
Trudeau responded, "The last thing Canadians expect is for me to come down and lecture another country on how they choose to govern themselves." If you missed the press conference, here's the full video.
In addition, here's the ABC News video where Trump and Trudeau enjoyed a (relatively) brief handshake this morning while entering the White House. Can we throw away those handshake jokes yet?
President Trump welcomes Canadian Prime Minister Justin Trudeau to the White House. https://t.co/n7TqA3VDnW pic.twitter.com/5TcpyDfZx5

— ABC News (@ABC) February 13, 2017