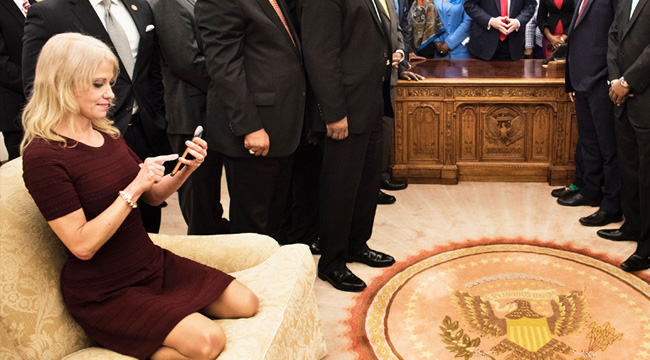 Kellyanne Conway insists she meant "no disrespect" with her recent "couchgate" incident. The conflict in question revolves around a photo of Conway sitting on an Oval Office couch, legs and shoes tucked underneath her, while taking a picture during Donald Trump's meeting with leaders of black colleges and universities on Monday.
Her actions created a brouhaha of controversy as a Twitter rager popped up to call her out for disrespecting the Oval Office. Conway broke her silence on the matter in an interview with Lou Dobbs. She explained that this was a minor misunderstanding, and all she was doing was taking a picture, as you can see in the below photo:
"I was being asked to take a picture in a crowded room with the press behind us, and I was asked to take a certain angle and was doing exactly that. I certainly meant no disrespect. I didn't mean to have my feet on the couch."
Conway makes a point, as she was just sitting on a couch and not defacing any presidential portraits or knocking down books from bookshelves. And she shot back at critics, saying people analyzing everything she has done is weighing on her family:
"It bothers my children, to be frank with you. I have 24/7 Secret Service protection because there are people out there who do wish us harm, and people should take that very seriously. I'm not a victim at all, but people should take very seriously the import of their words. Especially when they know I meant no disrespect."
She has routinely gotten the support of the White House, although incidents such as plugging Ivanka Trump's clothing line and inventing the "Bowling Green Massacre" are more serious than putting shoes on a couch. However, the White House now says that Kellyanne acted "without nefarious motive" when telling people to buy Ivanka's stuff. There are still lingering ethics issues there, but she's got the support of the boss.