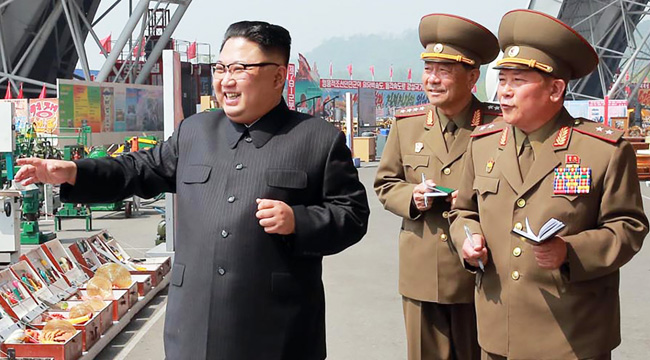 The sanctions on North Korea may be working some progress after all. Not only did South Korea recently reveal that Kim Jong-un's regime was "willing" to talk with the U.S., but it seems that the North Korean leader is suddenly feeling friendlier to his southern peninsula neighbor. CNN has reported that Kim agreed to welcome a high-ranking group of South Korean delegates (in what could signal a breakthrough) to Pyongyang on Monday.
Kim Jong-un, as a secretive and relatively reclusive leader, hasn't personally met with South Korean officials since 2011. In fact, he rarely meets with any foreigners, with the exception of his karaoke pal/unlikely confidante, Dennis Rodman, and a former Chinese official who visited in 2015. Yet he greeted South Korean National Security Chief Chung Eui-yong and nine other diplomats who planned to press him on putting down the nukes:
Their trip north is part of South Korean President Moon Jae-in's attempt to broker a diplomatic solution to North Korea's nuclear weapons program in the wake of the thaw brought about by North Korea's attendance at the Pyeongchang Winter Olympics last month.

It's a dramatic departure from 2017 when a string of North Korean weapons tests and hostile rhetoric from U.S. President Donald Trump and Kim heightened tensions on the Korean Peninsula
The Guardian confirms that an initial meeting did indeed take place at a dinner hosted by Kim Jong-un and the ten delegates. Ahead of the event, Chung told reporters that he also planned to push Kim Jong-un not only to continue improving South-and-North relations but to move toward talks with the U.S. Further diplomatic discussions are expected in the coming days.
Over the weekend, President Trump bizarrely claimed that North Korea had already "called up" and "would like to talk," but that boast hasn't been taken seriously, nor has the White House followed up with an official comment.
(Via CNN & The Guardian)