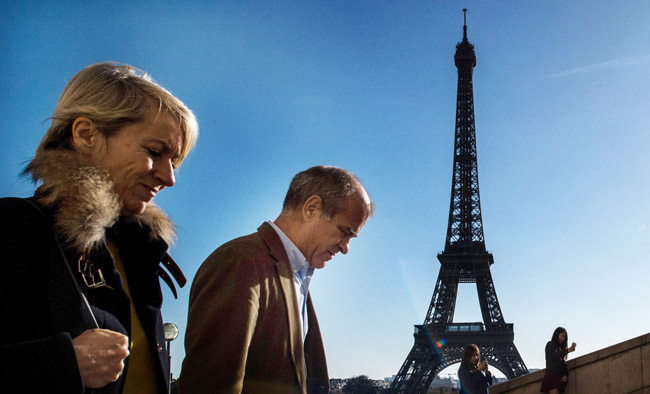 The hunt is still on for the individuals involved with the terrorist attacks that struck Paris on Friday, leaving 129 dead and leaving hundreds more wounded. The New York times reports that nearly 100 of those injured are still in critical condition, leaving it likely that the death toll will rise. At the same time, the manhunt continues for those involved with the attacks:
In the eastern Paris suburb of Montreuil, the authorities found three Kalashnikov rifles in an abandoned vehicle, a sign that some of the attackers may have escaped.

Investigators were also hunting down information about the first suspect to be publicly identified, Ismaël Omar Mostefaï, 29, a French citizen who was one of three hostage takers at the Bataclan concert hall. And seven arrests in Belgium left open the possibility that the plot had roots there.
As for the suicide bombers involved in the attack, CNN is reporting that some of them had entered the country via newly set rules for handling immigrants and one was even issued an emergency passport under the new procedures:
One of three bombers who detonated himself at the Stade de France late Friday arrived on the Greek island of Leros on October 3 among numerous Syrian refugees, CNN's Christiane Amanpour reported, citing an unnamed French senator who was briefed by the Ministry of the Interior.

The man declared himself to be Syrian, said his name was Ahmad al Mohammad…

The fingerprints from the bomber at the Stade de France match those taken when the man was issued his emergency passport on Leros.

The two others who detonated themselves at the stadium carried false Turkish passports, Amanpour reported.
Elsewhere, tributes and memorials to those lost in the attacks continued across the city and in other parts of the world. All of Sunday's NFL games will feature a moment of silence for the fallen in Paris and world leaders gathered at the G-20 summit in Turkey observed a somber moment for the departed. In Paris, makeshift memorials sprouted up almost immediately. This included an appearance by the members of U2 after they were forced to cancel a planned performance and TV special due to the attacks:
U2 had been scheduled for concerts at Paris' AccorHotels Arena this weekend, the first of which was supposed to be telecast live on HBO. But the shows were hastily canceled amid the state of emergency declared by President Francois Hollande.