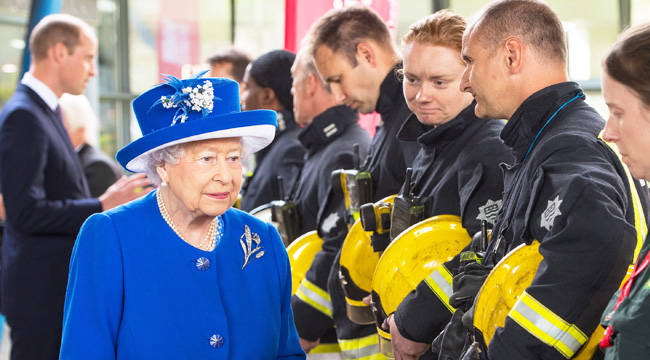 The survivors of the terrible Grenfell Tower fire that consumed a London apartment building are angry — at officials who ignored their safety complaints, at the architects for including only one stairwell, and at Prime Minister Theresa May for what they feel was a cold and callous response to the tragedy. Though Mayor Khan, Labor Leader Jeremey Corbyn, and even the Queen of England all visited with survivors at the site, May was conspicuously absent, citing security concerns.
"She didn't use her humanity," said journalist and former MP Michael Portillo. "She met in private with the emergency services, a good thing to do no doubt, but she should have been there with the residents."
Portillo is referring to a private meeting that May had at the site with the firefighters and police who responded to the blaze and are now trying to find survivors and evidence within the rubble. The Telegraph reports that she wanted to ensure that responders have all the resources they need and that she was up to date on the investigation into how this tragedy occurred.
That's not out of character for the sensible, serious May, who isn't exactly known for exuding warmth. However, many survivors and their loved ones feel slighted that she blocked media access to that meeting with firefighters and police, and did not stop to speak with or hear from survivors.
"It's disgusting. She should maybe come down and help out," said Dee Baxter, whose friend's step father died in the fire.
"We don't want to hear what she has to say if she doesn't want to speak to us," Baxter said of May's response. "Come and help us pack up the boxes, come and help the people who now have no parents."
May has insisted that there will be a full investigation into what caused the blaze, and that housing will be found for survivors not far from the Grenfell site (though that may be a tenuous promise). "The government will make every effort to make sure that they are rehoused in London and as close as possible to home," May said in a statement on Thursday.
In contrast, the Telegraph reported that the Queen was close to tears when she visited Grenfell with Prince William. The royal pair met not only with first responders and volunteers, but with residents, many still in shock and trying to process the inferno and their losses. The Prince also was visibly affected by the shell of the building and the state of the survivors. He noted that not only do they have immediate needs to address, such as medical care and housing, but will also need long-term support, too, such as mental health care.
May does seem to be trying to carry on while addressing the criticism levied at her. She scheduled a visit with Grenfell patients in the hospital for Friday morning, and she will also chair a meeting on how London leadership can help the community move forward.
(Via The Telegraph, The Guardian & The Independent)