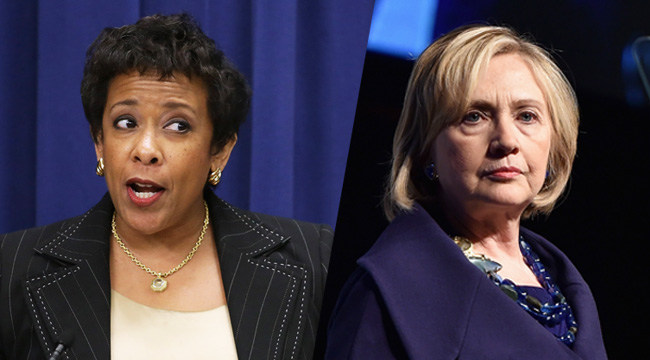 Hillary Clinton may have said goodbye to one scandal after the House Select Committee on Benghazi issued its report, but another headache remains. Clinton's related email probe, which has been labeled a criminal investigation by the FBI, still casts a heavy shadow on the presumptive Democratic nominee's campaign. Her aide, Huma Abedin, will soon be deposed about her boss' use of a private email server during her tenure as Secretary of State.
Meanwhile, State Department Under Secretary for Management Patrick Kennedy said this week that the server "did not strike any bells" while Clinton used it, but the sentiment partially revolves around Clinton being the first Secretary of State to really use email. Yet a State Department internal email recently slammed Clinton for using the server without permission and without regard to the security risks. Now, Attorney General Loretta Lynch has made a huge move by saying she won't stop an FBI indictment, and she'll cooperate fully with the bureau's decision:
"I will accept their recommendations. The case will be resolved by the same team that has been working on it from the beginning. People have a whole host of reasons and questions about how we in government do our business. I understand that my meeting on the plane with former President Clinton could give them another reason to have questions and concerns. I certainly wouldn't do it again."
Lynch admits that she made this announcement because (as she tells it) she stumbled upon a meeting with Bill Clinton this week, which raised criticisms that had "stained the reputation of the Justice Department." Ouch. Lynch stressed that the meeting was mostly a social one where they chatted about grandchildren, and it went down by chance, after both Lynch's and Bill's planes happened to be at the same Phoenix airport. Lynch also revealed she decided awhile back to support an indictment (if it happens) since it would be a conflict of interest (as an appointee) for her to make judgment.
Donald Trump naturally called attention to the airplane meeting. He called the move "a sneak," and "so horrible." Well, the FBI will soon make their recommendation about Clinton's email server issue, although some legal experts say a criminal indictment isn't likely. As for Trump, he's got his own major scandal on the horizon. Boy, general election season is turning out to be grimier than expected.
(Via New York Times, Washington Post & Politico)