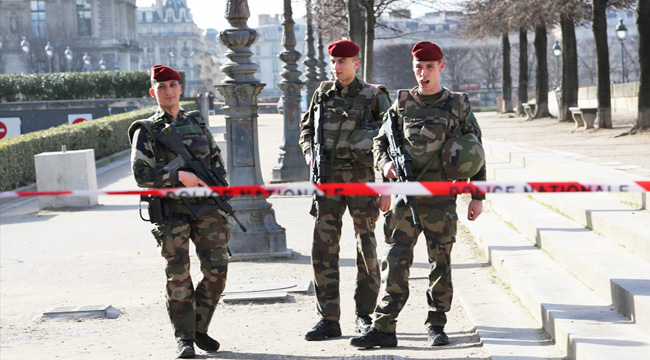 An attack that French Prime Minister Bernard Cazeneuve is describing as "terrorist in nature" was thwarted outside the Louvre museum in Paris on Friday. A soldier shot a machete-wielding man when he charged at a group of guards in the underground plaza near the museum. The assailant was carrying two backpacks, which were inspected and determined not to contain explosives.
Paris Police Chief Michel Cadot told CNN that the man reportedly shouted the Arabic phrase "Allahu akbar," meaning "God is greatest." Cadot also spoke with the The Guardian: "We are dealing with an attack from an individual who was clearly aggressive and represented a direct threat, and whose comments lead us to believe that he wished to carry out a terrorist incident."
The suspect was taken into custody after being shot in the stomach. No significant injuries occurred to the group of soldiers, although one sustained a cut on his scalp. CNN affiliate BFM-TV relays that the suspect, who remains in a Parisian hospital, did not carry any identification. The incident has now prompted a terror investigation, and a second person, who was "behaving suspiciously," was detained by authorities but doesn't appear to be connected to the machete attack.
Following the incident, the nearby Metro system began to bypass the museum, and a heavy police presence remains outside the Louvre in a city that has remained on edge since the November 2015 coordinated terror attacks, which killed 130 people and wounded hundreds more. Those attacks were planned to be even more widespread and bloody, but as of now, police are still in the preliminary investigative stages of what motivated Friday's machete attacker or whether he has terror connections.
In response to Friday's incident, Parisian Mayor Anne Hidalgo praised the rapid response of the soldiers who apprehended the machete attacker: "In this context of terrorist threat that concerns every big city in the world, we saw how efficient and relevant Paris security features were."
Donald Trump has tweeted about the incident: "A new radical Islamic terrorist has just attacked in Louvre Museum in Paris. Tourists were locked down. France on edge again. GET SMART U.S."
(Via The Guardian, The Telegraph & CNN)