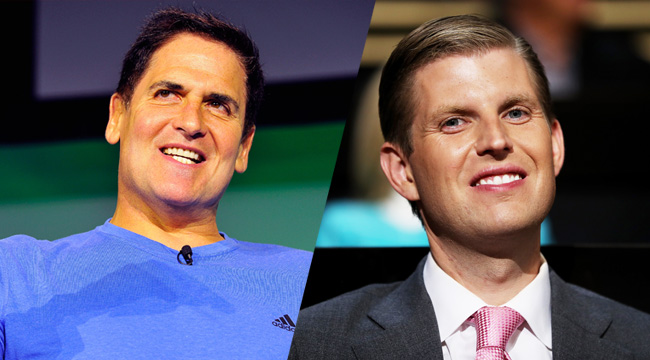 Donald Trump's campaign has come out in full force Saturday decrying Hillary Clinton for calling some of his supporters a "basket of deplorables." The Donald's son Eric Trump fired off a tweet striking back at Clinton, but he didn't do the proper research before hitting the tweet button:
Nothing wrong with boasting about the massive crowd your father can garner, but little Trump was a bit off as that was not Pensacola, Florida. The photo was actually from a 2015 rally in Dallas at the American Airlines Arena. And who was able to catch the error and call out Trump? Why none other than Dallas Mavericks owner and Hillary Clinton supporter Mark Cuban:
Deadspin was even crafty enough to dig up the original photo and point out you could clearly see banners for retired Dallas Stars players in the background. Cuban's tweet was not the mightiest burn, but he has roasted Trump pretty hard in the past.
But Cuban may not be done tackling Trump this campaign season. There are rumors that he has flirted with the idea of running for office, but he hasn't said anything official. But he said if independent Evan McMullin, who is running as the anti-Trump Republican alternative, needs a vice president he would be "happy to discuss." Oh, the possibilities that could provide the country.