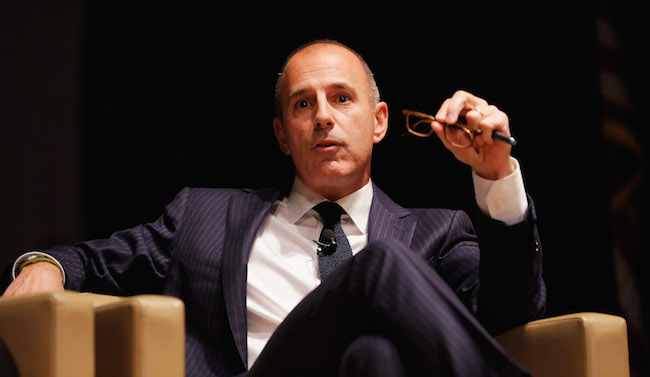 Former Today co-host Matt Lauer has gone from morning TV fixture to absent from the public eye following a growing wave of allegations of sexual misconduct. On Thursday, Lauer released a statement acknowledging there is "enough truth" to the harassment claims while stating he feels the matter has been "mischaracterized." Lauer has been relatively off the radar since. Included in Lauer's withdrawn public presence is the apparent deletion of the NBC veteran's social media accounts.
Buzzfeed's Brandon Wall pointed out on Thursday's afternoon that Lauer's Twitter and Facebook accounts are now deleted. They remain deleted at the time of this writing.
Lauer's axing his personal social media accounts comes one day after NBC largely scrubbed their former star's image from Today's website, Facebook page and Twitter account.
Thursday also saw Matt Lauer's former Today boss and current CNN president Jeff Zucker comment on the multiple allegations facing the broadcaster. According to Zucker, Lauer's alleged misconduct was not something he was aware of during his time at Today.
"No one ever brought to me, or to my knowledge, there was never, there was never a complaint about Matt," said Zucker at Business Insider's Ignition conference. "There was never a suggestion of that kind of deviant, predatory behavior. Not even a whisper of it, nothing like that."
Journalists have had no shortage of reactions to the Lauer allegations.
(Via New York Times)