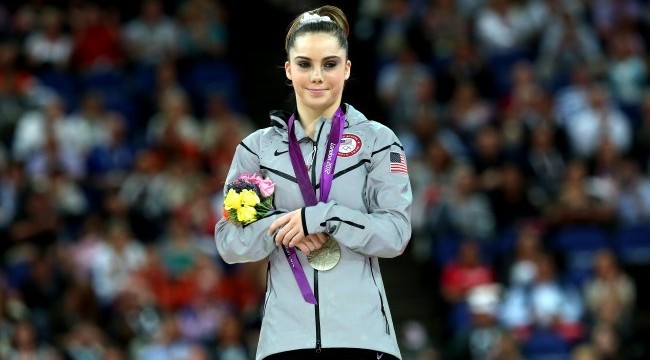 Former USA Gymnastics doctor Larry Nassar is currently awaiting sentencing in Michigan for molesting over 100 female athletes under the guise of medical treatment. The court has been hearing emotional victim impact statements for days already, but many more survivors are expected to speak. One of the athletes who Nassar abused, Olympian McKayla Maroney, was subject to a non-disclosure agreement as part of a previous settlement with USA Gymnastics, but the organization declared that it would not seek money from Maroney if she spoke at Nassar's hearing.
Thursday, on the third day of statements, and after Judge Rosemarie Aquilina dismissed Nassar's complaint that he didn't have the mental ability to hear two more days of victim statements, Maroney addressed her abuser in the form of a letter, which was read aloud by an attorney, as he sat on the witness stand. Maroney called him a "a monster of a human being" and continued.
"I had a dream to go to the Olympics and the things I had to endure to get there were unnecessary and disgusting," Maroney stated. "I did it. I got there. But not without a price."
Maroney stated that Nassar's abuse continued through the 2012 London Olympics and did not stop until she quit the sport. "A simple fact is this: If MSU, USA Gymnastics, and the US Olympic committee had paid attention to any of the red flags in Larry Nassar's behavior, I would have never met him. I wouldn't have been abused by him," she added.
The Detroit News recently reported that over a dozen MSU staffers were aware of reports about Nassar by several women, although the university maintains that it had no knowledge of his behavior until 2014 when a Nassar victim filed a report with law enforcement, and the university opened an investigation.