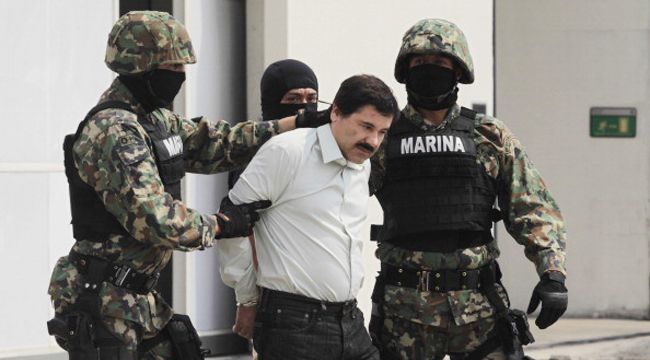 On the day before Donald Trump takes office, Mexico has announced the extradition of drug lord Joaquin "El Chapo" Guzman to the United States. Coincidence? Well, this didn't happen overnight. Last May, Mexico approved the move, but the timing here cannot be ignored. Trump once had a weird feud with the sons of the imprisoned Guzman. There were even were rumors about a Sinaloa cartel bounty on Trump's head, which prompted the real estate mogul to beef up security on early campaign stops.
In addition, there's a slight air of Mexico possibly trolling Trump because he won't stop with the Wall business. And since he famously stated that Mexico sends drug dealers and rapists to the United States, our southern neighbor may have decided to prove him correct by sending one of the most fearsome (and tunnel-loving) drug lords in history. Reuters has the details of this oddly timed announcement:
"The government … today handed Mr Guzman Loera to the U.S. authorities," the Mexico foreign ministry said in a statement, referring to a court decision on Thursday rejecting a legal challenge by his lawyers against extradition.

Guzman was being held in a prison in the infamously violent border city of Juarez in the northern state of Chihuahua where his Sinaloa cartel won a bloody drug war against rivals.
A top U.S. law enforcement official spoke to Reuters and said he's simply relieved that El Chapo is now subject to American law, and maybe the timing was a coincidence, "but it certainly isn't a bad thing."
El Chapo's final capture went down due to his Achilles heel of desiring Hollywood stardom in the form of a biopic. This quest was revealed by Sean Penn's diary entry of a Rolling Stone column, which featured him farting next to the drug lord. That was a rather anticlimactic conclusion to a decades-long cartel reign, but maybe the upcoming El Chapo a Netflix series will be even more exciting. One can hope.
(Via Reuters)