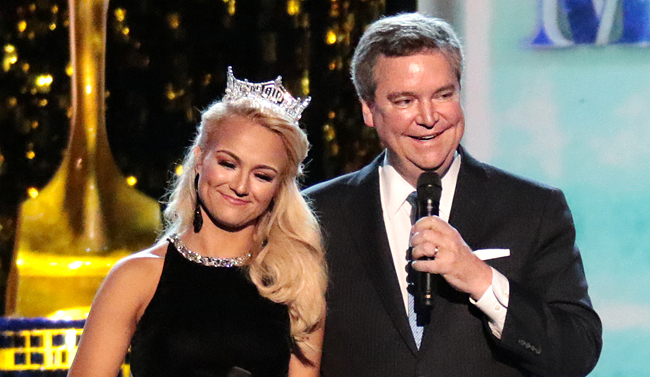 Yashar Ali at HuffPost has published an extensive look at the CEO of the Miss America pageant and emails sent between himself, members of the pageant's board, and a lead writer for the telecast. The emails show Sam Haskell engaging in conversations about former contestants and pageant winners in derogatory, sexist, and offensive ways. As Ali mentions right at the top, an email from Haskell to writer Lewis Friedman sets the tone for his report:
"I have decided that when referring to a woman who was once Miss America, we are no longer going to call them Forever Miss Americas….please change all script copy to reflect that they are Former Miss Americas!"

Friedman replied, "I'd already changed "Forevers" to "C*nts." Does that work for you?"
HuffPost points out that Haskell came to the pageant board after retiring from William Morris as their head of television in 2005, helping to bring the pageant back to its former glory and back to broadcast television on ABC. Ali got his hands on at least three years of emails from 2013-2015, revealing a pattern that seemed to extend to any former pageant winner that didn't conform to the pageant's standards. While we've seen similar circumstances in the past with Donald Trump and his ownership of the Miss Universe pageant, the emails present in the story seem to go to new depths of offensiveness.
One example is how Haskell would speak highly about 2013 winner Mallory Hagan in emails with his daughter, before turning around to have snide chats with board member Tammy Haddad over other past winners according to HuffPost:
In May 2014, Haskell forwarded one of Haddad's emails to a Miss America executive. In it, Haddad had referred to some former Miss Americas as a "pile of malcontents and has beens who blame the program for not getting them where they think they can go."

She added, "80% of the winners do not have the class, smarts and model for success."

She then encouraged Haskell to try to avoid getting riled up by the "formers," saying, "YOU have to let them go. You don't need them. They need you. We also have to punish them when they don't appreciate what we do for them."
There are other moments where Haskell would malign former winners such as former Fox News personality Gretchen Carlson and 1998 winner Kate Shindle, with the latter becoming a target after the release of her book in 2014 that questioned fees paid to Haskell. This led to an email conversation between Friedman and Haskell regarding the death of former winner Mary Ann Mobley with the subject line, "It should have been Kate Shindle." Shindle responded with a statement via social media:
Carlson was reached for comment, condemning the emails and calling on those involved to step down:
"As a proud former Miss America and former member of the Board of the Miss America Organization, I am shocked and deeply saddened by the disgusting statements about women attributed to the leadership of the MAO. No woman should be demeaned with such vulgar slurs. As I've learned, harassment and shaming of women is never acceptable and should never be tolerated. Every MAO executive and board member who engaged in such crude behavior and signed off on it like it was no big deal should resign immediately."
Ali's piece is exhaustive and worthy of attention, containing far more from Haskell and the others involved. Even Mallory Hagan, one of the "good ones" according to the report, couldn't escape the vitriol. The ramifications are currently being felt by the pageant, with Dick Clark Productions confirming they pulled out of their relationship with the pageant after presenting the board with the same emails featured in the HuffPost report:
More is sure to come and the Miss America Organization has yet to respond to the report or the statements by those mentioned in the emails. In the current environment of heightened awareness over sexual misconduct, you would have to expect the reaction from here on to be severe.
(Via HuffPost / New York Daily News / Twitter)