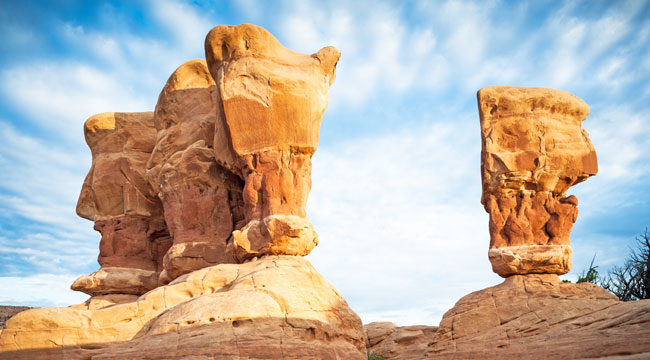 It didn't take much time after President Trump announced a massive downsizing of two Utah National Monuments for five Native American tribes to lawyer up to protect their sacred lands. The Ute Mountain Ute, Navajo Nation, Hopi, Zuni, and the Ute Indian tribes are suing Trump for what they say is an overstepping of executive branch boundaries by unilaterally rolling back protections for hundreds of thousands of acres of Utah wilderness at Bears Ears National Monument and Grand Staircase-Escalante National Monument. The tribes' lawsuit reads as follows:
"The President was plainly aware that he lacked the authority to revoke a monument and is thus transparently attempting to evade that strict limitation by purporting to reduce it but, as described herein, the President's action must be viewed as a revocation, particularly with respect to all objects not included in the two 'new' monuments."
Ironically, the President's justification for the reduction is federal overreach. He feels President Obama overstepped his bounds when he declared the lands national monuments, and Trump says his decision gives the land back to the people of Utah. However, Conservationists and Native peoples alike agree this might not help average Utahans much but could become an open invitation to mining companies and others who might be interested in the smaller parcels of land created by the breakup.
That jeopardizes about 100,000 archaeological and sacred sites throughout the region, which is why the five tribes are invoking the 1906 Antiquities Act. As they explain in their suit, "The Act authorizes Presidents to create national monuments; it does not authorize Presidents to abolish them either in whole or in part, as President Trump's action attempts to do." In other words, President Trump's assertion that Obama went too far by designating the landmarks will have to be tested in court.
While indigenous peoples aren't the only ones with a vested interest in keeping the monuments at their present size, it was important to the five tribes to make a swift, distinct claim. "The tribes feel it was important to file first, to be ahead of the line, to make it very clear that this is not just a conservation issue. This is tribal sovereignty issue," said a senior attorney from the Native American Rights Fund, which is representing the Hopi, Zuni and Ute Mountain Ute.
(Via CNN)