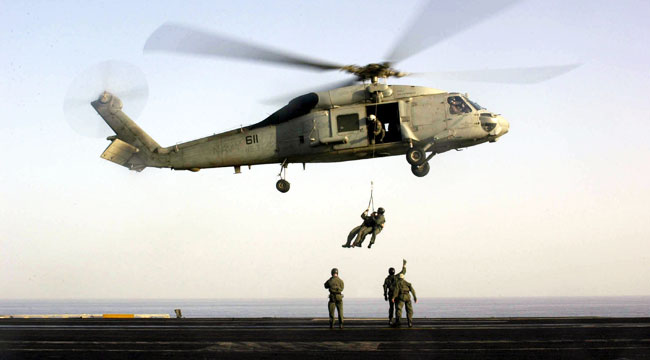 While the investigation continues into the ambush in Niger (that killed 4 U.S. soldiers, 2 of them Green Berets), officials have also been probing the death of another Green Beret. The New York Times reports results from a probe into Staff Sgt. Logan J. Melgar's death, which has been ruled a homicide, in Mali this June. Military officials have concluded that Melgar died by strangulation, and two unidentified Navy SEALs have been placed under suspicion.
The circumstances of Melgar's death have been under wraps for months (due to the ongoing investigation by NCIS), but the two SEALs in question were quickly placed on leave following the incident. Further, their status has shifted throughout the probe from "witnesses" to "persons of interest" with the two now formally becoming suspects.
The 34-year-old Melgar had served through two Afghanistan tours before being deployed to Mali to assist with counterterrorism missions. His body was discovered within embassy housing (where he stayed with other Special Ops forces), and his death was immediately considered to be suspicious:
The soldier's superiors in Stuttgart, Germany, almost immediately suspected foul play, and dispatched an investigating officer to the scene within 24 hours, military officials said. Agents from the Army's Criminal Investigation Command spent months on the case before handing it off last month to the Naval Criminal Investigative Service.
Although details released by military officials remain scarce, the NY Times notes that the "uncertainty" surrounding the homicide has led to much speculation among fellow Green Berets and their surrounding community. Some wonder whether a personal dispute escalated and went "horribly wrong," while others wonder whether Melgar discovered something such as "some illicit activity the SEALs were involved in," and the suspects may have wanted to guarantee that he'd never talk. No doubt, we'll hear more about this case as more details become available.
(Via New York Times)