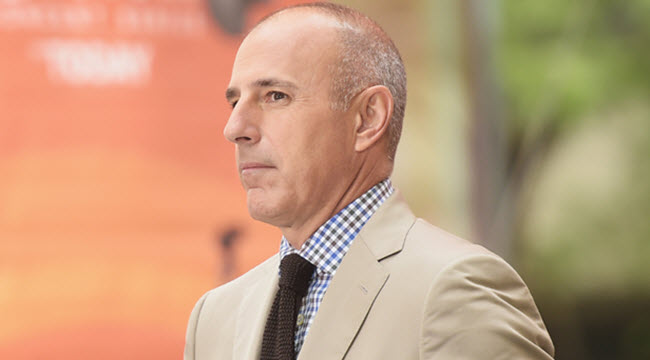 Although Matt Lauer's alleged pattern of sexual misconduct — including the reported infamy surrounding his office's hidden red button — spanned years, his sudden dismissal still arrived as a surprise to his colleagues. Within days of filed reports of sexual harassment and sexual assault by Lauer, he was booted so quickly that editors scrambled to erase him from prerecorded sections of the Rockefeller Center Christmas tree lighting ceremony. It's also becoming clear NBC executives aren't willing to take chances for further incident, as evidenced by a reportedly strict new anti-sexual-harassment policy from the network.
Page Six, which generally gets the NBC scoops first (although they can come with an agenda), spoke to a source who says NBC employees will be required to report instances of sexual harassment and sexual assault in the workplace or risk potentially losing their jobs. In addition, the policy reportedly includes the mandatory reporting of "inappropriate relationships" at work — including office romances — and a failure to report will be considered "covering up." The new guidelines also dictate how to properly dole out hugs:
A source says, "Romantic relationships at work are not exactly unusual, but now NBC says it is taking a zero-tolerance approach. Staffers have been told that if they find out about any affairs, romances, inappropriate relationships or behavior in the office, they have to report it to human resources, their superior or the company anti-harassment phone line. Staffers are shocked that they are now expected to snitch on their friends.

"Plus, there's been a series of ridiculous rules issued on other office conduct. One rule relates to hugging. If you wish to hug a colleague, you have to do a quick hug, then an immediate release, and step away to avoid body contact.
The source doesn't make clear whether office romances are now off limits for staffers or whether they must simply be reported for record-keeping purposes. Either way, it's a bold new world out there that also, reportedly, prohibits co-workers from sharing taxis or Ubers after social events. And not only that, but the source tells Page Six that there's also an unexpected new rule — about vegans not being made to eat at steakhouses — in the policy.
Some might consider that last rule to be hyperbole or perhaps not even real, but maybe NBC is pulling a move similar to "no brown M&Ms" tidbit in Van Halen's infamous tour rider? That is, anyone taking a vegan to Outback Steakhouse clearly isn't taking office policies seriously. Well, perhaps that rumored addition should be best left up to audience interpretation.
(Via Page Six)