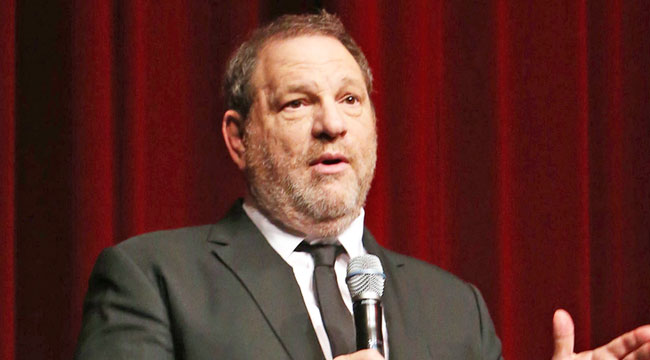 As alleged horrors continue to unfold concerning Harvey Weinstein's pattern of predatory behavior, the Weinstein Company's board of directors has been angling to offload the company in a sale to avoid bankruptcy proceedings. That process has now been halted indefinitely as of Sunday, for New York Attorney General Eric Schneiderman has filed suit against Harvey Weinstein, his brother Bob, and the Weinstein Company while alleging the violation of civil rights laws against sexual harassment, coercion, and gender discrimination.
The New York Times reports that the last-minute lawsuit will stop an investor group (Contreras-Sweet) from completing the transaction. The NY AG's office now claims (after a four-month investigation) that the Weinstein Company's board of directors had been "repeatedly presented with credible evidence" of Weinstein's behavior and his use of assistants who were forced to facilitate his sexual encounters. The suit demands that Weinstein's victims and employees must not be left "without adequate redress":
"The Weinstein Co. repeatedly broke New York law by failing to protect its employees from pervasive sexual harassment, intimidation and discrimination. Any sale of The Weinstein Co. must ensure that victims will be compensated, employees will be protected going forward, and that neither perpetrators nor enablers will be unjustly enriched. Every New Yorker has a right to a workplace free of sexual harassment, intimidation and fear."
The LA Times reports that the Contreras-Sweet deal would have established a fund in excess of $50 million for Weinstein's accusers and would have also freed the company from filing for bankruptcy. However, the NY AG's office seeks to ensure that the company's employees will be protected, and as part of that, Scheiderman has also demanded to oversee the Weinstein Company after the purchase deal goes through. Contreras-Sweet was said to have opposed future oversight, which is what presumably led to this lawsuit.
The case is now in the hands of the State Supreme Court, which only adds to the racketeering and sex trafficking lawsuits (in other venues) faced by the company, as well as possible criminal charges that may eventually hit Harvey himself following decades of his alleged sexual misconduct.
UPDATE #1 – 8:05pm EST: Harvey Weinstein's attorney has given a statement (to Deadline), which states in part that there "was no criminality":
"While Mr. Weinstein's behavior was not without fault, there certainly was no criminality, and at the end of the inquiry it will be clear that Harvey Weinstein promoted more women to key executive positions than any other industry leader and there was zero discrimination at either Miramax or TWC."
(Via New York Times & LA Times)