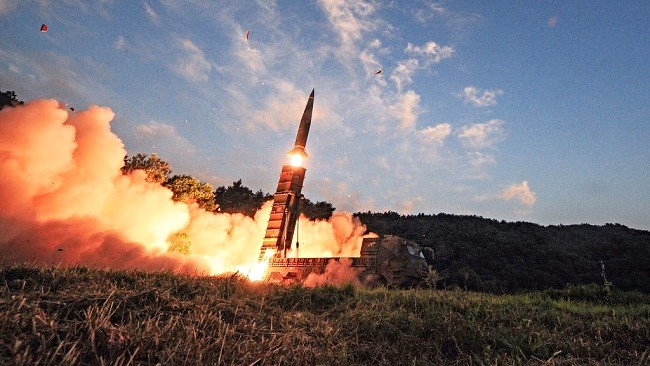 On the heels of a report that North Korea could possess long-range nuclear weapons by 2018, the Yonhap News Agency out of South Korea reports its insular neighbor has fired a ballistic missile "eastward." The missile was supposedly fired from the South Pyongan province, located in the middle of the country, and its eastward trajectory apparently took it into the Sea of Japan. Yonhap adds that the South Korean military is currently analyzing the missile's path with help from the United States but didn't specify which agency or military organization was taking part. Whether or not the launch was successful also remains a mystery.
The news of the morning ballistic missile firing by North Korea came just as Hawaii announced it was reviving its nuclear warning siren system for the first time since the Cold War. Later, Reuters and other American news agencies began picking up the news bulletin from Yonhap — and ultimately confirmed the missile launch with American officials. It was also the first time that North Korea had tested a missile launch since September, during which the country's officials have teased its accelerating nuclear weapons program — and using it against the U.S. and its allies.
UPDATE: The New York Times reports South Korea conducted its own missile test shortly after they detected North Korea's, which occurred at 3:17 am local time. What's more, Japanese Prime Minister Shinzo Abe called an emergency meeting of the country's national security council, according to his chief cabinet secretary, Yoshihide Suga:
"We strongly urge North Korea to change their policy as there will be no bright future for North Korea unless they resolve such issues as the abductions, nuclear program and missiles," Mr. Suga said.
(Via Yonhap News Agency, Reuters and CNN)