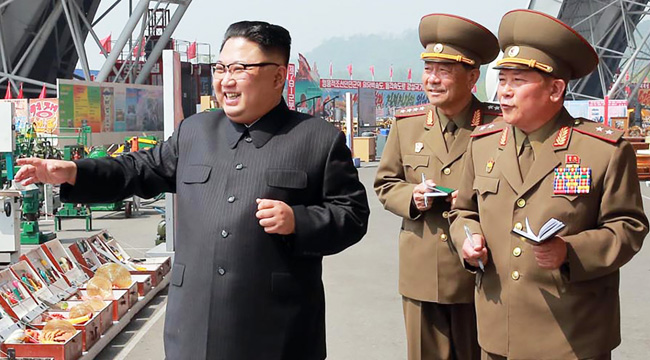 Over the Fourth of July holiday, Kim Jong-un waved "hello" to the U.S. by successfully launching North Korea's first intercontinental ballistic missile, which boasts a range of over 3,500 miles and is understood to be capable of reaching Alaska. While North Korea's nuclear program hasn't demonstrably proven (yet) that it's developed a warhead small enough to fit on one of these bad boys, Reuters reports that Pyongyang is claiming that it has achieved that goal as well.
So, what next? U.S. military officials gathered in an emergency meeting to see what could be done (while the White House has called for "global action"), and the Associated Press is now relaying rhetoric from Kim Jong-un, who vows that more "gift packages" are in the works:
A report in its state media Wednesday described leader Kim as "feasting his eyes" on the ICBM, which was said to be capable of carrying a large nuclear warhead, before its launch. "With a broad smile on his face," Kim urged his scientists to "frequently send big and small 'gift packages' to the Yankees," an apparent reference to continuing the stream of nuclear and missile tests Kim has ordered since taking power in late 2011..
Further, the country is (unsurprisingly) thrilled to have achieved their long-elusive ICBM launch on America's Independence Day, and there's even more grim news on the way. The South Korean Defense Ministry warns that the North might soon test a nuke with "boosted explosive power" in order to prove that they can strap a warhead to their shiny new ICBMs.
Well, President Trump will have plenty to discuss with other world leaders at the upcoming G-20 meeting, and his slamming of China's efforts to pressure North Korea will make for an ultra-tense atmosphere. On Wednesday morning, Trump announced that he shall soon be en route to Germany, and then he trashed China again. The summit should be an eventful one!
(Via Reuters & Associated Press)