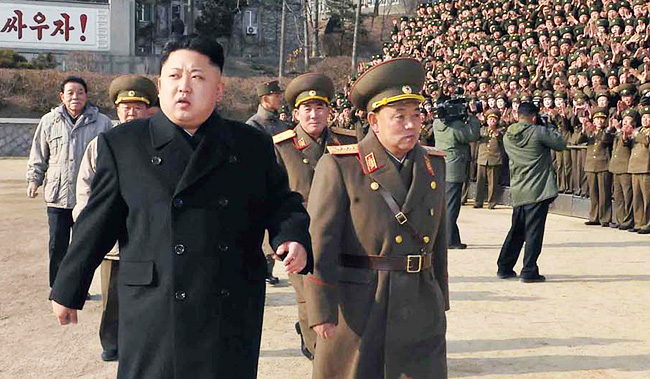 This year, North Korea defiantly "celebrated" the Fourth of July with a show of force against the U.S. In doing so, Kim Jong-un's regime successfully tested its first long-range ballistic missile that was said to be capable of reaching Alaska. Now, the CIA's deputy director of its Korea Mission Center, Yong Suk Lee, warns that another North Korean "gift package" might be in store for Columbus Day.
While speaking at a conference hosted by the CIA at George Washington University, Lee warned that not only has Pyongyang drawn significance from the U.S. holiday, it may also aim to recognize the founding day for the communist Korean Workers Party. So, two birds with one stone? Lee believes that Kim Jong-un may take action next Monday:
"We are concerned … that risk exists at any time on the Korean Peninsula. I told my own staff, October 10 is the Korean Workers Party founding day. That's Tuesday in North Korea, but that's Monday — Columbus Day holiday in the U.S. — so stand by your phones."
Lee didn't speculate on what, exactly, that Pyongyang could be planning, only that it would take the form of a provocation. Most likely, this would involve yet another missile — and Kim Jong-un has recently favored making motions against U.S. targets in Japan — or a nuclear test.
Also a factor when it comes to severity of this possible provocation? North Korea's accelerating behavior was recently answered by the U.S. in the form of severe new sanctions. Further, Trump's addition of North Korea to his latest travel ban couldn't have helped matters, nor have reports that exposed imports of North Korean seafood to U.S. retailers. In other words, Lee may be correct — Columbus Day could be eventful.
(Via Yahoo News & GW Center for Cyber and Homeland Security)