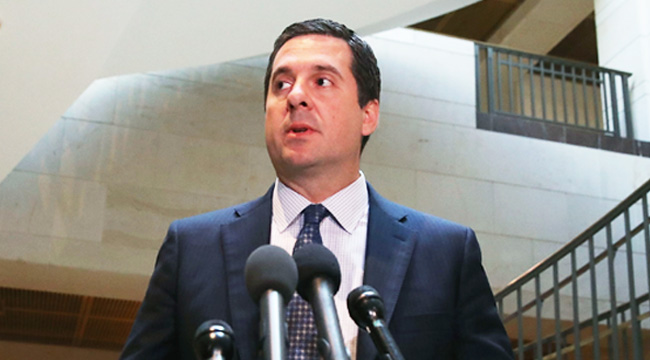 There are subpoenas flying left and right out of the House's Intelligence Committee. Earlier this evening, both National Security Advisor Michael Flynn and Trump's personal attorney Michael Cohen were served on the Russia probe. But tonight, the House erupted over a total of seven subpoenas (including the above and three for "unmasking"), which were signed by GOP House Intelligence Committee Chair Devin Nunes.
If you recall, Nunes recused himself in April from the Russia probe, with Republican Representative Mike Conaway stepping in to lead the inquiry. That didn't stop Nunes from signing subpoenas of his own that related to the unmasking of Republicans and Trump transition team members in classified documents related to the Russia probe.
Normally names would be redacted unless there was good reason to reveal them. Nunes, who himself served on the Trump transition team (and used White House sources for his surveillance claims), wanted to ensure that the named individual's identities weren't revealed for partisan reasons. His subpoenas were apparently intended to determine the motivation of officials including former National Security Advisor Susan Rice, former CIA Director John Brennan, and former United Nations Ambassador Samantha Power.
Democrats, on the other hand say that Nunes went behind their backs on the subpoenas.
The Wall Street Journal reports that a GOP congressional aide said that the unmasking investigation was deemed to be a different issue than the Russia probe itself, allowing Nunes to participate without conflict of interest.

Furthermore, Republicans insist they didn't need minority approval for Nunes' actions. Reuters quotes an anonymous senior committee aide who explained, "Subpoenas related to the 'unmasking' issue would have been sent by Chairman Nunes acting separately from the committee's Russia investigation. This action would have been taken without the minority's (Democrats') agreement."
This latest controversy essentially boils down to the question of why Nunes wasn't more transparent about the subpoenas he signed. Hypothetically, if Nunes suspected Democrats of unfairly unmasking the opposition, he might have avoided getting their approval for the subpoenas because he assumed they would block it to protect their own agenda. On the other hand, Nunes' issuance of the subpoenas after recusing himself calls his own agenda into question. At the very least, it's bad optics. At the worst, it's something more sinister. At present, it's another twist in an already complex and ever-deepening story.
(Via Wall Street Journal & Reuters)