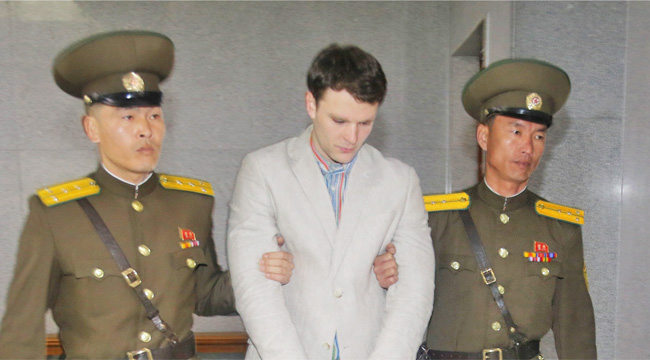 Just as the United States is making baby steps (in the babiest sense of the word) in diplomatic relations with North Korea, the parents of University of Virginia student Otto Warmbier are suing the authoritarian regime in an unprecedented lawsuit over the death of their son. Warmbier was sentenced to 15 years of hard labor in March of 2016 for stealing a political banner from a hotel during a group trip to Pyongyang. He was freed over a year later in June of 2017 after having spent a year in a coma in custody, and died shortly after being returned to the U.S.
North Korea claimed the coma was due to botulism, however American doctors found that Warmbier had suffered extensive brain injury likely due to a cardiopulmonary arrest that caused the brain to be deprived of oxygen.
Fred and Cindy Warmbier filed a 22-page complaint in U.S. District Court for the District of Columbia on Thursday, alleging that the 22-year-old former homecoming king and star athlete had been "brutally" abused during his detainment.
In a statement, Fred Warmbier said his son was "taken hostage, kept as a prisoner for political purposes, used as a pawn and singled out for exceptionally harsh and brutal treatment by Kim Jong Un. Kim and his regime have portrayed themselves as innocent, while they intentionally destroyed our son's life. This lawsuit is another step in holding North Korea accountable for its barbaric treatment of Otto and our family."
The lawsuit could have severe geopolitical ramifications as President Trump prepares to meet with Kim Jong Un in the coming weeks. Likewise, Kim and South Korean President Moon Jae-in are meeting together in an inter-Korean summit on Friday as a sort of precursor to Trump's denuclearization talks.
It's worth noting that newly confirmed CIA Director Mike Pompeo came under fire last week after meeting with Kim Jong Un and coming back "empty handed" without the three American detainees currently being held in North Korea. Critics say that this sets an unpromising precedent for Trump's upcoming visit.
(Via Washington Post)