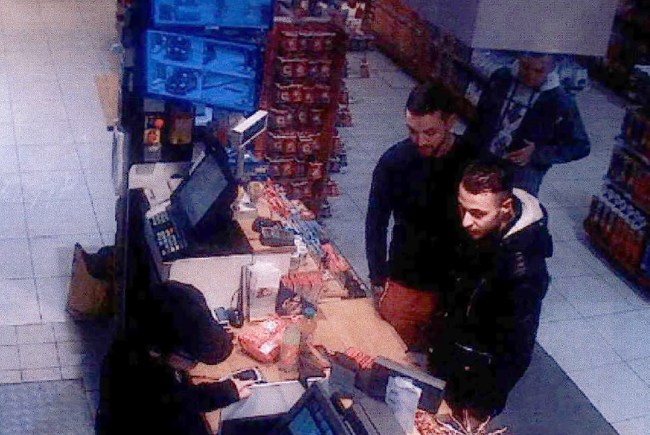 This CCTV video image of Salah Abdeslam was captured in North Paris just two days before last year's November 13 coordinated terrorist attacks, which killed 130 people. Abdeslam is seen on the right before he became Europe's most wanted man. On Friday, freedom ended for the so-called eighth suspect and prominent ISIS member when police captured him as part of an ongoing Belgium raid. He's suspected of scouting locations along with organizing transport and lodging arrangements for the terrorists who descended upon the City of Light.
Authorities previously lost track of Abdeslam, who turned up missing during a deadly Saint-Denis raid (in which a female suicide bomber killed a beloved police dog) near northern Paris. The terrorist remained at large on an international arrest warrant, and his older brother publicly urged him to surrender to authorities. Finally, police located Abdeslam after an ongoing series of raids in Brussels, Belgium. Abdeslam's fingerprints were uncovered in an apartment, which ultimately led to his discovery. The Guardian reports the details on how police zeroed in on the French national:
Paris attacks suspect Salah Abdeslam has been shot and arrested in an ongoing raid in the Molenbeek area of Brussels, Belgian police have told AFP. Police sources told AFP that Abdeslam was injured in the leg and was arrested.

Earlier, the Belgian federal prosecutor Eric Van der Sypt confirmed that Abdeslam's fingerprints had been found at a flat that was raided in the Forest area of Brussels on Tuesday, where a shoot-out with police saw another gunman shot dead next to an Islamic State flag. Two suspects fled that raid.
CNN's situation room confirms the arrest and says Belgium authorities were pretty steamed at the French media leaking the fingerprint details in the hours prior to Abdeslam's arrest.
Belgian politician Theo Francken celebrated on Twitter: "We have him."
https://twitter.com/FranckenTheo/status/710874057995116545
(via The Guardian & CNN)